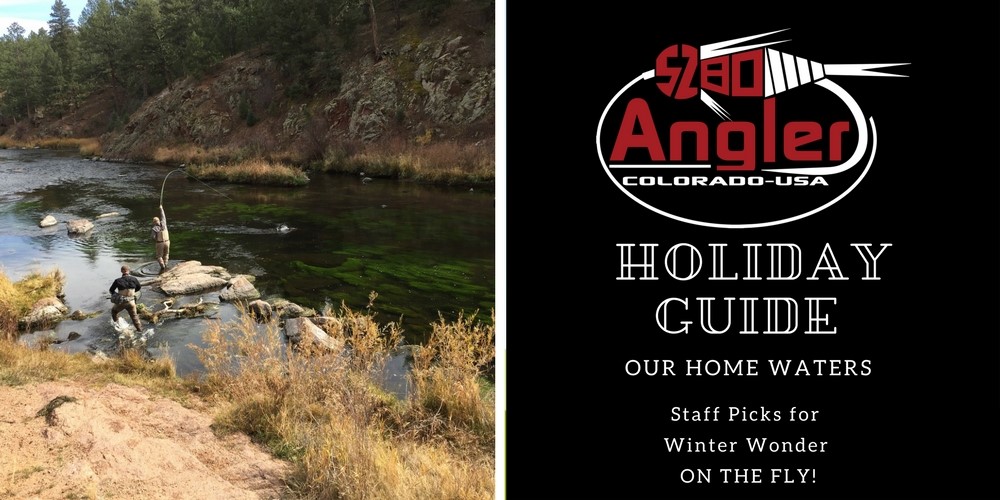 This holiday season, the 5280 Angler team has taken the time to reflect on what makes our local water so special. We hope that this "gift guide" inspires you to opt outside, chase some trout, and enjoy mother's nature's finest gift. Although Cousin Eddie may have rejoiced over a year-long subscription to the jelly of the month club, it's our cold clean water that we believe is the more worthwhile "gift that keeps on giving." We like jelly too, but it's catch and release fly fishing on some of the finest trout water in Colorado that we are most excited about sharing this season, and all year long. (A pool would be cool too, Clark)
For those hosting friends and relations this year, a guided trip with 5280 Angler is the perfect way to experience adventure along the Front Range. If you'd like to take advantage of special pricing on full day trips, check out our seasonal savings on guided fly fishing trips.
If you are heading out on your own or among fly fishing friends to enjoy a wet and wild winter wonderland, we wish you tight lines and holiday cheer!
---
DESTINATION: The Dream Stream section of the South Platte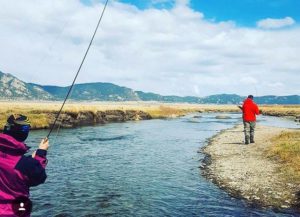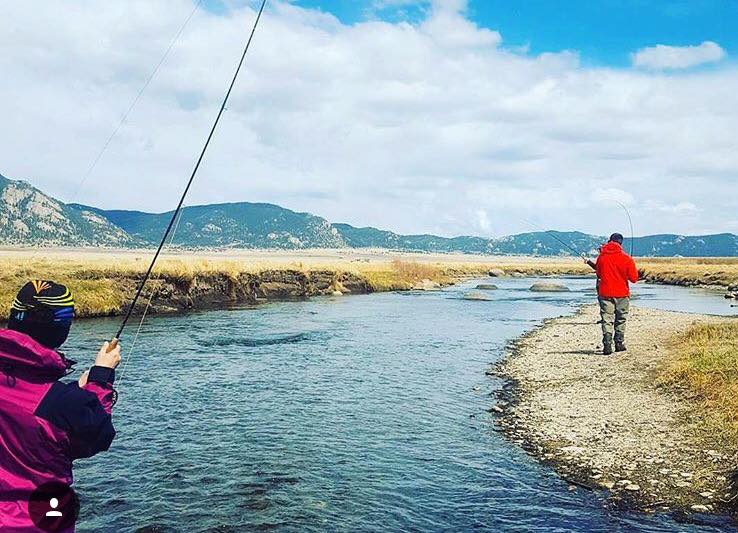 WHAT MAKES THIS PLACE SPECIAL: The best part of this section of the river is the tranquility. There may be other anglers out there, but you're not next to a road listening to cars driving by. Plus, there is ALWAYS a chance of catching a monster fish. Most people think the big fish are only there during the spawning runs of Fall and Spring, but a monster can be lurking anywhere in there 365 days a year.
MEMORABLE MOMENT: Taking my 11 year old son there and watching him hook up with 7 fish in a row all over 20″. The fact that he was doing it when nobody else around us was hooking anything at all was amazing. The kid's got skills.
---
GUIDE: Tom
DESTINATION: Upper Colorado River: Parshall & Pumphouse areas
WHAT MAKES THIS PLACE SPECIAL:  a bigger river with beautiful water- like pictures out of a fly fishing magazine.  Moose,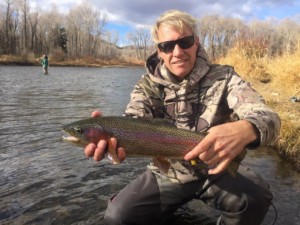 eagles, beaver, and lots of wild fish of various sizes without the crowds.
MEMORABLE MOMENTS:  watching a moose cross the river and walk right in front of us.  Perfect timing for a green drake hatch with every fish in the river coming up for dries!
—–
GUIDE: Tom (Cont'd)
DESTINATION: Rocky Mountain National Park
WHAT MAKES THIS PLACE SPECIAL: lakes and creeks with incredible scenery and even prettier native cutthroats.  Backcountry hike-in experience – you have to sweat some to get there, and it's worth it!
MEMORABLE MOMENTS:  clients catching their first greenback cutthroat trout. Any time you look around you're awestruck to fish in a place like this.
——
GUIDE: Tom (Yep, still Tom, he would have kept going, but we told him to he had to stop at 3)
DESTINATION:  Tarryall Creek Ranches (below Tarryall Reservoir)- we fish 6 different ranches.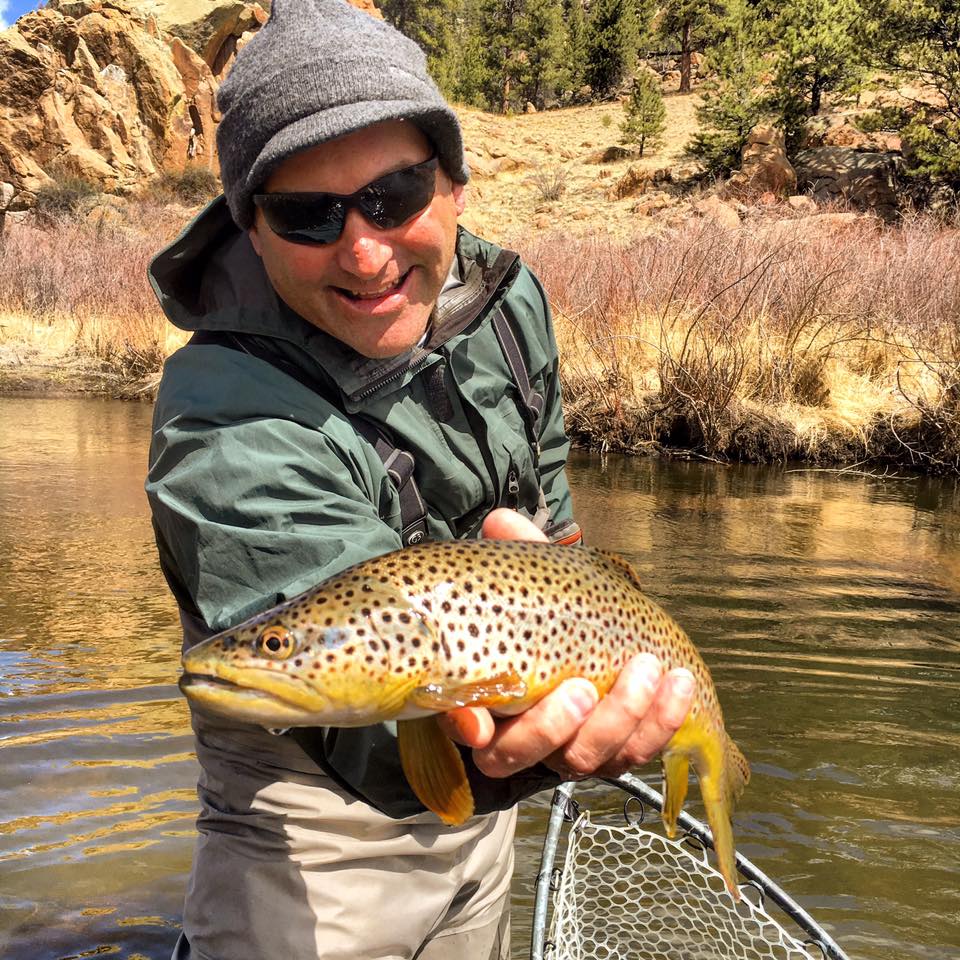 WHAT MAKES THIS PLACE SPECIAL:  Tarryall Creek is the way Colorado and fly fishing used to be:  historic ranches and outfitter cabins, quiet peaceful setting, awesome rock outcroppings, wildlife, beautiful water, and excellent fishing. Leave your nymph rigs at home- we fish dries and dry droppers most of the time.
MEMORABLE MOMENTS:    Every time I'm there – people don't think a place like this still exists!  Catching fish on dries all day  -that is unbeatable!
---
DESTINATION: The RMAC Club Properties – Taryall Creek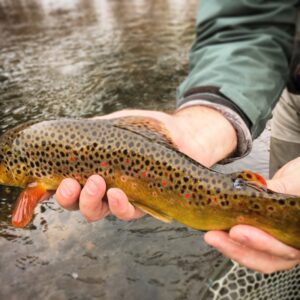 WHAT MAKES THIS PLACE SPECIAL: Wonderful Scenery, Quiet, and no one else is around. 
MEMORABLE MOMENT: Removing a fishhook from a client's thumb.  The dry fly fishing got really good all of a sudden and my client got really excited and put a size 16 elk hair caddis in his thumb. Not sure how, but we missed an epic hatch as a result. 
---
DESTINATION: The Arkansas River tailwater near Pueblo, CO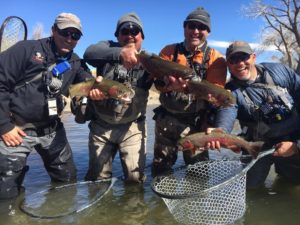 WHAT MAKES THIS PLACE SPECIAL: Every time I fish the Ark through Lake Pueblo State Park, I feel like I'm on vacation Southern Trout Tour – sort of like chasing Rainbow Trout in Cancun. The warm winter temperatures and the incredible number of quality trout reminds me of a mini-version of the San Juan River.
MEMORABLE MOMENT: Watching four friends hooked up simultaneously with trout, each over 18″ was pretty spectacular. The fact that we were fishing in 60 degree February temps made it all the sweeter.
---
HAPPY HOLIDAYS FROM THE ENTIRE 5280 ANGLER GUIDE TEAM!
---