---
RAINBOW FALLS MOUNTAIN TROUT
Woodland Park, CO (8,465 ft.)
"Nearly anyone you talk with that's fished it has their own fond memories of Rainbow Falls. As Colorado's oldest trout hatchery, we have been raising trout and stocking the lakes for over 136 years. With it's 9 lakes, and nearly 1-mile of stream the possibilities are endless. What separates Rainbow Falls from other areas is the Big Spring, which produces a constant 51 degree flow of water, channeled through our Trout Raceways, raising over 10,000 new trout year-round. This runs into our "Spring Lake" which never freezes, then 2 more lakes, joining our Trout Creek lakes downstream." –
"Our unique combination of Trout Creek and the Natural Spring provide all of Rainbow Falls lakes and stream with constant water flow the year round. We practice catch and release on all lakes and streams. All our lakes are stocked and provide a wide variety of fishing experiences. Come enjoy fishing at Rainbow- and make your own memories!" – Richard, Owner, Rainbow Falls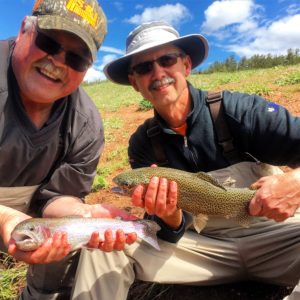 Rainbow Falls opens the beginning of April, earlier than most private water options, and closes November.  This one of a kind property features ABUNDANT and LARGE trout!  Rainbows, browns, cuttroats, and even steelhead dwell in its ponds and creek.  Trout Creek, the small stream connecting the many lakes, has reliable daily bug hatches, making it a great place to target large surface feeders.  Interested in catching a 20″ trout on a small dry? This is the spot to try it.
Rainbow Falls is the perfect location for those looking for easy access, as well as for anglers wanting to improve stillwater fishing techniques. This unique venue is also perfect for anyone who just want to catch BIG fish!  It's also a great spot to bring kids, groups, or those brand new to the sport.
ROD FEES:

$100.00

*This fee is in addition to standard

guide rates. Individual anglers, pairs, and large groups welcome! Please note, rod fees secure access to property for the date, and are nonrefundable. **Rainbow Falls is a private fly fishing club, and dates are subject to availability**
LOCATION:

Rainbow Falls Mountain Trout is located approximately 8 miles north of Woodland Park on Hwy N 67.
FACILITIES:

 This property features excellent group facilities. Several rain shelters are located throughout the venue. Two routinely serviced port-o-lets are located just steps from the fishing action. Grills, covered picnic tables, and easy walking paths make this an awesome destination for large groups! Roads and parking circle throughout the property, very near the fishing, ensuring that every guest will have have access regardless of mobility.
Several lodging options are available in Woodland Park CO, and nearby camping options are plentiful.
To inquire on availability, or to any questions regarding this beautiful water, please don't hesitate to CONTACT US.
FOR MORE DETAILS REGARDING OUR GUIDED FLY FISHING TRIPS, CLICK HERE.
---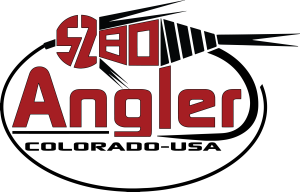 Passionate about Service | Wild about Fish ™