The Colorado River
Parshall, CO (7,589ft)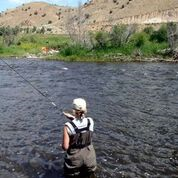 The mighty Colorado River begins in majestic Rocky Mountain National Park on La Poudre Pass and steadily gains water and strength as it carves it's way through our state onward towards the Gulf of Mexico.  
From the confluence with the Fraser River to Troublesome Creek, the Colorado is Gold Medal Water.  This section of river is quite large and wild, with a mix of long, wide riffles and deep pools.  The river has a diverse array of trout forage, but it is most known for the giant Salmon Fly hatch.  Timing this short but epic hatch takes a little know how and a lot of luck, but if you are one of the lucky anglers that hit it just right, you'll make a memory of a lifetime. 
If your are looking for the just the right balance of wilderness adventure with reasonable access, the Colorado is the quintessential Rocky Mountain freestone experience.