"SO, WHAT'S THIS TENKARA THING?"
You've maybe heard about it or seen someone out on the river using a tenkara rod.  Or possibly you've got a fishing buddy that's already hooked on tenkara.  Simple, fun, and highly effective; now's the time to give Tenkara a try!
5280 Angler® is proud to offer guided tenkara trips! Our guides are ZEN TENKARA CERTIFIED, ensuring that you will have the kind of tenkara experience you're looking for. Learning this awesome method of fly fishing with our proven guides, at one of our incredible  public or private Front Range fishing destinations, is sure to be the ultimate way to get to know TENKARA!
TENKARA HISTORY & DETAILS
Tenkara is a fixed-line fly fishing method that has been around for years, centuries in fact. Originally crafted of bamboo, tenkara rods were utilized in Japan  by commercial fisherman in high mountain streams. Tenkara has its own rich history of fly patterns, art, and culture, which adds additional depth and flavor to this fun way to fish.
These light weight, telescoping rods were originally designed to transport easily through dense wilderness to fish smaller bodies of water. With the extra leverage and flex provided by the additional rod length, no reel is necessary. As materials and design have progressed, tenkara style rods, lines, fly patterns, and accessories have been developed to suit all different sizes of streams and fish. The long rods are dynamic, active, economical, and  simply just a fun way to fish, regardless of stream and fish size.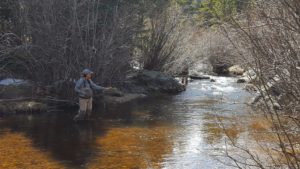 It doesn't matter if you've never fished a day in your life, or whether you're a veteran trout bum who's traveled the world on angling adventures, tenkara fly fishing offers a unique and highly effective way to connect with fish. Therein lies the simple beauty of tenkara: the direct connection between angler and fish!
FREQUENTLY ASKED TENKARA QUESTIONS
Can I dry fly fish with tenkara? Yes.
Can I fish a streamer with tenkara? Yes.
Can I nymph fish with tenkara? Yes.
Can I do a dry dropper with tenkara? Yes.
Can I catch large fish with Tenkara? YES!
WHY TENKARA?
Tenkara is just plain FUN! Think about when you were a kid and the first time you caught a fish. That's what catching trout on tenkara feels like. Connecting directly with a fish is a real joy. Fighting a fish without a reel is quite an engaging thrill. They say, "the tug is the drug," and tenkara anglers know all about it. With tenkara you are directly connected to the experience, and will feel every movement, every twist, and every headshake.  
Tenkara will test your fish fighting skills, and it will help you become a better, smarter, angler overall.  Our guides have noticed that tenkara has helped guests to quickly improve the economy of their casts, the quality of their fly presentation, their sense for optimum angling position, and their overall fly fishing efficiency. 
WRITE TO US TO SCHEDULE YOUR FULL OR HALF DAY 5280 ANGLER TENKARA TRIP TODAY!
---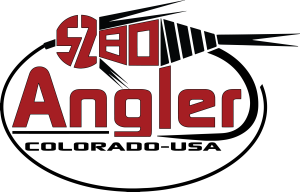 Passionate about Service | Wild about Fish ™