HOW TO PREPARE FOR YOUR GUIDED FLY FISHING ADVENTURE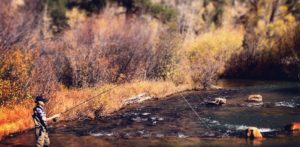 EQUIPMENT
5280 Angler and your professional guide WILL provide:
Waders & boots are provided by 5280 Angler Outfitting ®, you may bring your own if you prefer.

Rods & Reels are provided by your guide. We typically use 9 foot 4, 5, & 6 weight rods, depending upon location and conditions. Of course, you are welcome to bring your favorite.
Flies are provided by your guide.

Leaders and tippet are provided by your guide.         

Tackle (indicators, weight, etc.) is provided by your guide.

Fresh drinking water is provided by your guide.

On full day trips, a lunch will be provided by your guide.
---
Items you will be responsible for:

   
Rain Jacket and clothing fit for variable mountain weather. Layered synthetics work best.

Sun Screen and sun hat – any ball cap that will keep the sun out of your eyes.                                                                                                      

Thick pair of socks – such as Merino wool.

Comfortable/breathable pants to wear between skin and waders – preferably not jeans.          

Camera

Wading Staff – if needed.

Glasses – A MUST FOR EYE PROTECTION. We strongly recommend polarized lenses to reduce glare.

Change of dry clothes – just in case.

Any required medications/personal items you will need.

Fishing License- you can purchase at most Front Range fly shops, Wal Marts, or online at Colorado Parks & Wildlife.
Small zip lock bags – optional – for anything you don't want to get wet. This is a water sport and waders are no guarantee you won't get wet…(mainly, we're talking keys & cell phones) 

During the hotter days of summer we may wet-wade, so a pair of quick drying shorts and old tennis shoes/hiking boots will suffice for most situations.

 
SEASONAL WEATHER INFORMATION
May-October has a very wide range of temperature swings, with the average daytime temperature between 60-95 degrees. Night time temps can fall below 40 degrees even during the middle of summer. Precipitation is a rare event on the river, but still a possibility, so be prepared. Weather can change rapidly in the mountains. Ideal clothing is worn in layers and quick drying fabric is optimal. Consider clothing to protect yourself from sun as well (sunscreen/wide brimmed hat). The fishing begins at your pace and extends through the afternoon hours, if you can handle the pull from the native Mystery River trout. We are unable to provide alcohol, however bring what you want and we can provide non-alcoholic beverages, snacks, and extra cooler space. Your job is to relax, catch fish, and have the time of your life.
Nov-May is typically cooler/cold with average morning temps in the teens and twenties typically warming up to the thirties and mid forties. Again, ideal clothing is worn in layers and quick drying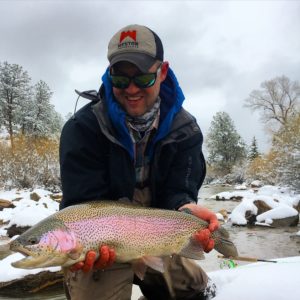 fabric is optimal. It is advisable to wear an insulated base layer (not jeans), polypropylene, capiline, or thermals work very well for winter fishing. A mid-layer of Polar-Fleece or wool is a very good and a light warm winter jacket for those colder mornings is advisable. A warm stocking cap and gloves are usually worn in the colder mornings. Dress in layers so that you can shed clothing as the day warms.
CLICK HERE FOR MORE WINTER FISHING TIPS.
---
Safety:
Most fishing is done between 8000 – 9000 feet above sea level. You are closer to the sun and the air is thinner. Start drinking lots of water and don't forget your hat, sunglasses and sun screen. All very important for those of you coming from lower altitude.
---
Gratuity:
Guide gratuity is not included as part of your payment, and is by no means mandatory. However, gratuity is much appreciated both as part of a professional guide's salary and as feedback for a job well done. Gratuity amounts are discretionary. Customary to the industry as a whole, for example, is a $100 tip for a day of quality, professional service.