---
Bartle Lakes
Alpine Fly Fishing
Near Jefferson, CO (10,500ft)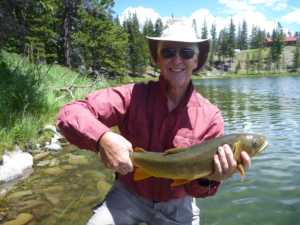 Bartle Lakes is one of the prettiest destinations to fly fish in Colorado. This unique property also happens to be one of our guides' favorites. This property really captures the quintessential high country angling experience.
The magnificent alpine scenery comes straight from a "Welcome to Colorado" postcard.  Wildlife is abundant.  Elk, deer, and moose are frequent visitors to the lakes.  Crisp mountain air, abundant brook trout eager to pounce on dry flies, and rugged mountain backdrop create a highly enjoyable angling experience.  Dry fly enthusiasts will not be disappointed. For the guy or gal who says, "I just want to throw a dry fly all day long," this is your heaven!
Vibrant wild brook trout eagerly take flies from the surface, but there is also the chance to tussle with trophy sized rainbows, Snake River cutthroat, and brown trout.  This property is perfect for anglers of all abilities and is sure not to disappoint.
Bartle Lakes offers visitors the chance to explore a series of small ponds on foot. Guests have told us that fishing here feels like experiencing something straight from the text of Henry David Thoreau. Also, a western drift boat gives guests the chance to float the beautiful large lake and cast dries in comfort and style. The float n wade combo is part of what makes the Bartle Lakes adventure so very cool!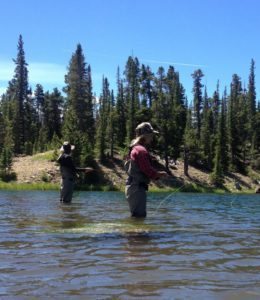 ---
ROD FEES:
$65 per angler 
*This fee is in addition to standard
guide rates
. Rod fees are nonrefundable.
LOCATION:

Nestled in the Boreas Range about 7 miles from Jefferson.
FACILTES: This property features multiple lakes and ponds easily accessible for most anglers from shore, by wading. The property also provides a drift boat, which is always extremely popular with our guests! Amenities include a large tent shelter with multiple picnic tables, gas grills, and a routinely serviced port-o-let.  This is a pristine mountain location, ideally suited for anyone looking to get away for a day and experience Colorado solitude and splendor. Great for group outings.

---
PLEASE VISIT

 BARTLE LAKES

FOR MORE INFORMATION
---