---
LONG MEADOW RANCH
NORTH FORK of the SOUTH PLATTE RIVER
Shawnee, CO (8,120ft)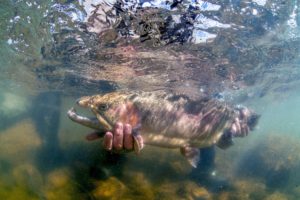 Long Meadow Ranch, Boxwood's upstream neighbor, celebrates the true nature of the South Platte.  Among the gorgeous 2 miles of supremely restored stream environment, anglers will find diversified structure, ideal habitat, and stunning trout life.
This property offers anglers the opportunity to fly fish various types of water from deep pools to perfect pockets, and from fast riffles to overhanging willows.  Trout here are eager to take large dries, nymph rigs, and streamer patterns.  Some of the largest fish that populate the North Fork of the South Platte swim within the sweet waters of Long Meadow Ranch. 
Surrounded by majestic mountain views and the rolling rhythm of the North Fork, guests are treated to a picnic-style grilled lunch, served in the streamside shelter. 
Book a trip to Long Meadow Ranch and feel what fishing was like, when anglers first found the Platte.
---
FULL-DAY ALL INCLUSIVE RATES
1 Angler  $495    
2 Anglers  
$350 per
3 Anglers $325 per  
Full Day Rates include access fees, guides, gear, flies, and lunch.
1/2-DAY ALL INCLUSIVE RATES
1 Angler $395    
2 Anglers  $275 per
3 Anglers $250 per
1/2 Day Rates include access fees, guides, gear, and flies. 

Lunch

is not

included. 
1/2 Day trips start at 7:30 AM & 1:00 PM
*This property serves up to a maximum of 10 anglers. 
---
LOCATION:

Long Meadow is located just 60 minutes southwest of Denver via HWY 285 along the beautiful North Fork of the South Platte River. The entrance from HWY 285 is approximately 1/2 mile past mile marker 216 if coming from the Denver area, or 1/2 mile past mile marker 215 if coming from the Fairplay/Breckenridge area.
FACILITIES: 

This property features a stream side shelter, gas grill, and routinely serviced port-o-let. A ranch access road runs along the stream, along which anglers walk to access different sections of the river. For groups needing a larger interior space, wifi internet access and indoor restroom facilities, we recommend Long Meadow's neighbor, Boxwood Gulch Ranch.
---
Meet Long Meadow's downstream neighbor: 

BOXWOOD GULCH RANCH
---
ADDITIONAL DETAILS
Guide/Angler Ratios:  Whenever possible 5280 Angler will maintain a Guide to Angler ratio of 1:2 to provide the best service possible.
Semi-Private: Groups with fewer than 10 anglers may be sharing the property with other anglers.  Groups sharing water will  have their own guides and share the property independent of each other.
Non angling guests:  Non anglers are always welcome on our trips. However, the landowner charges a $75.00 access fee for these guests.  We provide lunch to non angling guests on full-day outings for no additional charge.
Winter Fishing (November 1 thru March 31 each year): Winter fishing can be as productive as a good day in the summer, but only available if water flow and weather conditions permit.  Reduced winter rates apply.  Call for details.
Catch and Release: Barbless hooks are mandatory at Long Meadow and Boxwood Gulch Ranches.
Pets: Pets are not allowed at Long Meadow or Boxwood Gulch Ranches.
---
For more property details, please visit the Long Meadow Ranch Website.
---