---
Clear Creek
Georgetown, CO (8,530ft)
Clear Creak starts in the rugged mountains overlooking Georgetown, flows along I-70, then through Creak Canyon finally down to Golden past the Coors Brewery.  Anglers should step carefully when wading.  It is a small river with steep rocky banks, swift currents, and slippery rocks. Dry dropper rigs work well here in the summer, but nymphing and streamer fishing take plenty of fish too.  Small browns are typical of this stream with the occasional rainbow.  This is a great location for 1/2 day trips, beginners wanting an introduction to the sport, and experienced anglers working to improve technique without driving far from the city.  If you are looking for a quick fly fishing fix, Clear Creek is the place.
---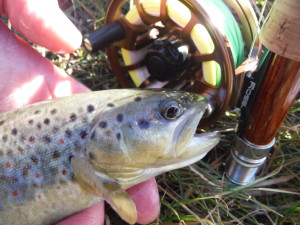 Bear Creek
Evergreen, CO (7,220ft)
This tiny tributary is just plain fun! Period.  The tailwater starts below Evergreen Lake, tumbles downstream making its way through Morrison, and finally empties in the Platte in Littleton. For such a small creek it holds a lot of fish!  And they aren't shy. Little opportunistic browns with the occasional rainbow attack most general attractor patterns.  But you will need some stealth. Navigating the many overhanging branches and boulders to get the perfect drift is what makes this creek exciting to fish!

---
South Boulder Creek
Below Gross Reservoir, CO (7,225ft)
South Boulder Creek rises on the Continental Divide at Roger's Pass, tumbles it's way through scenic forested canyons, and eventually finds it's way to Boulder, CO.  As its name implies, this unique watershed has plenty of granite stones which create a unique mountain stream with endless riffles, pockets, plunge pools, and water falls.  Fly anglers will find new challenges around every bend.  South Boulder Creek is an excellent 1/2 day excursion in a tranquil environment with the additional bonus of holding some of prettiest wild trout you'll find on the front range.