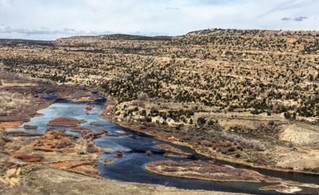 When not guiding or managing life's other necessities, each member of the 5280 Angler guide staff  hits the water at every available turn. However, the opportunities to fish together as a group arise less often than we'd like. I'm sure it's much the same with many of you and your fishing buddies: we have to make it a point to schedule fishing trips together, or it doesn't happen. So, we've taken to organizing an annual SPRING BREAK TRIP!
This year, we excitedly headed down to the San Juan River below the Navajo Dam in New Mexico. There were many reasons to be pumped about fishing this world-renowned tailwater. However, there's really one stat that says it all: 15,000 fish per mile!
We were also privileged in the fact that 5280 guide Marcelo spent several years serving guests on the San Juan. I'm proud to write, he didn't disappoint. Marcelo knew his home water well, and we wasted no time getting re-acquainted with the river and with the fish. We maximized our fishing time, hitting different sections of the quality waters on each of our 2.5 days fishing. Each area presented fun challenges (slow deep pools, long runs below arching shelves, braided riffles, and unique pocket water). The low (for the San Juan) flows – approx 450 cfs – allowed us to move around on foot everywhere easily, with no need for drift boats.
In terms of rigs and presentation, we fished much the same way we do 90% of the time on our home waters of the South Platte:  weighted nymph rigs (local regs stipulate a 2 fly limit),  on a clean dead drift. Some areas allowed for incredible no-indicator-sight-fishing, whereas other long, deep, runs required more weight, indicators, and a systematic approach to working the water. We did some stream sampling and consulted the local fly shop to determine that midges were the way to go. (Mostly red larvae, sz. 20-22 & olive/gray/black pupa sz. 22-26). "The W" (big wind) mostly prevented us from fishing dries. However, for a few fun hours on day one, Jay and I were put to the test amidst a rabid frenzy of midge-mania. Trout were binge eating upon emerging pupa at or near the surface in slow, clear, water; forcing us to delicately present small dries and emergers.
Adding a fun twist to our trip, we put our new Zen Fly Fishing Tenkara rods to the test. We fished the ZAKO rod with nymph rigs on 5X tippet. Landing countless fish in the 12-18″ range, and even a few in the 20″+ category, we proved to ourselves that Tenkara is not just for small streams. Leveraging solid fish without a reel in steady flows, had us all smiling, cheering, and laughing!
Truthfully, the San Juan lived up to it's reputation, and we all had a great time (see pics below)!  Only a half-day's drive from Denver, this awesome fishery was the perfect destination for 5280 ANGLER: SPRING BREAK 2016!
OUR TRIP STATISTICS:
Number of Days Fishing: 2.5 (Though Jeremy, Geno, & Marcelo hit the upper San Juan in Pagosa Springs on the way home for some bonus fly time)
Fish Caught: We lost count. Yes. It's THAT good.
Productive Flies: red midge larvae (20-22), midge pupa (22-26), small midge dries (24), eggs, worms (smaller than you'd think), small scuds (18-22), (note: Jay committed to a half day of streamer fishing and struck out, but that's on him.)
Satisfied Anglers: All of us (even Jay).
OTHER LOGISTICS:
Season: Just like many of our home tailwaters, the San Juan pretty much fishes year round (excluding runoff release). We enjoyed mid-march for several reasons: off-peak timing meant for far fewer anglers on the water, and temps were comfortable. The fish were plenty active.
Where to stay: In Navajo Dam, we stayed at historic Abe's. The other, more upscale option, within minutes of the water is Fisheads.
Fly shop: The selection at Float 'N Fish is awesome.
OUR PICS TELL THE STORY: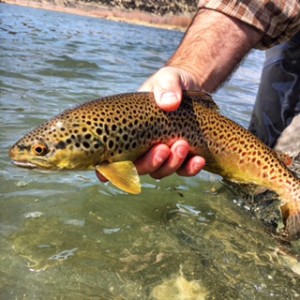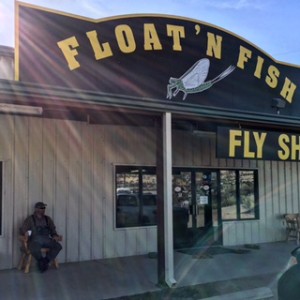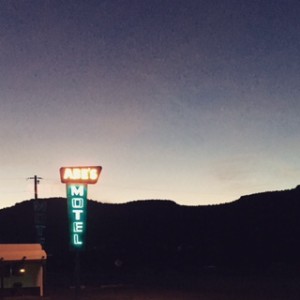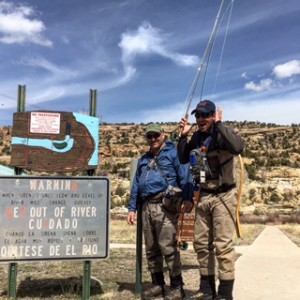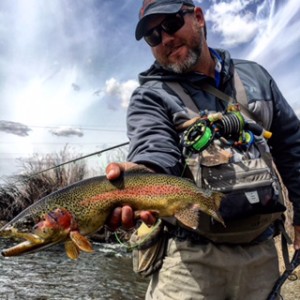 ,