REAL. COLORADO. FISH. STORIES.
Their Words. Our Values. 
PASSIONATE ABOUT SERVICE | WILD ABOUT FISH ™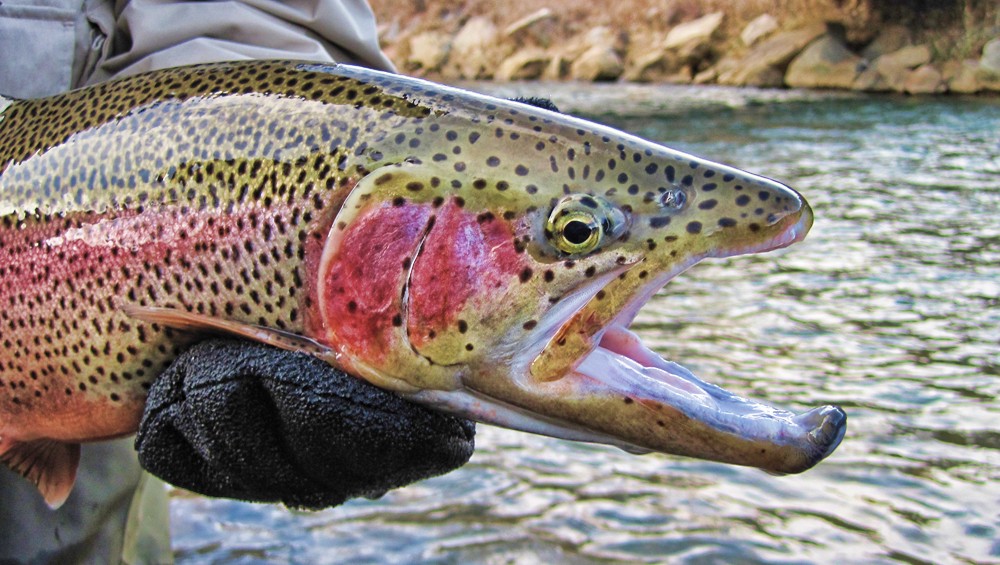 'Educational and Enjoyable'
I just wanted to email you and tell you what a great time we had last Friday! From start to finish, you made us feel comfortable and made our time both educational and enjoyable. As for the fishing, it was fantastic! With over 20 fish hooked, it was a blast. Like I said on Friday, my previous experiences fishing Deckers alone, yielded no fish. The lessons/tips you provided were on point and led to fishing action throughout the day. Your passion for teaching (and experience teaching as well) was evident throughout the day. You provided my wife and I with tips and tricks we will definitely take with us on future fly fishing adventures. We look forward to booking another trip with you. Thanks for a memorable and educational day.

– Allen, via e-mail
---
'Over the Top, Great Teachers'
Jay and Ben were fantastic! So kind, enthusiastic, and ready to teach. They wanted us to have such a positive experience fly fishing that they went above and beyond to make sure we all caught a fish! A few of us caught several. Their lunch was tasty and they went over the top to ensure we were happy and comfortable. I can't recommend these guys enough!! Beyond being great teachers they were just fun to hang with and talk to. There was never a dull moment. I wish I could continue learning from them!!

– Jenna, Yelp Review
---
'Taught Both of Us a Ton'
My Dad and I went out with Geno down in Deckers. We're both intermediate anglers with years of experience but not a whole lot of professional training. Geno taught both of us a ton! We also landed some really good sized trout. I'd highly recommend Geno if you book a trip with 5280 Angler!

– Keegan, Yelp Review
---
'Organized, Attentive, and Fun'
Our guide was Jeremy. My husband and I are new to fly fishing and had a great time! We are both hooked and will be back for sure. I didn't even want to stop for lunch. Jeremy was very well organized, attentive to our needs, and fun to work with. We learned a lot, and will recommend this company to anyone.

– Kristin, Yelp Review
---
'Just Plain Cool'
I went out with Tim and Dave and had a great time. Those guys not only put me on fish, but were great teachers as well. I learned about the flies we used, lots of tips and tricks on better casting and natural presentation. I really enjoyed learning about the water and what to look for in a stream to learn where fish tend to be in certain conditions. The education itself was worth the trip, and catching all those fish was just a bonus. Great guides and just plain cool dudes. Thanks for a great trip.

– Matt, Google Review
---
'A Memory for a Lifetime'
I took my 11 year old son. We are both novices. Ron Pecore was patient and encouraging with us both and provided an outstanding experience for us. My son still can't stop talking about the 21″ brown he caught … a memory for a lifetime! We will be back and look forward to highly recommending 5280 Angler to all. Thank you.

 – Tom D, Groupon Review
---
'Thrilled Every Time'
My father has been fly fishing the Rockies for 50 years,and he is thrilled with Jay every single time he goes fishing with him. Jay knows the best places, has all the gear, and ensures that you get something…I've never caught 20 inch fish in Colorado, but it always seems to happen in with Jay. This time, since there were three of us, we had a second guide Jeremy. He was also great, and fun to work with. Anyone with 5280 will serve you well. My dad observed after we came home that the thing that makes fishing with Jay extra fun is that Jay is genuinely excited every time someone lands a fish. It's infectious. If you're looking for a fishing guide, use them. I've never fished so comfortably or so well.

– Meggin, Yelp Review
---
'Awesome Experience'
Awesome all around Experience and our Guide Geno was "The Best" putting my wife and I on top of quality fish throughout the day and helping us by having the right setup to get them on our lines. Go with 5280 you won't be disappointed !! 🙂

 – Terry, Google Review
---
'Professional'
My husband and I had a wonderful experience with 5280 Angler – we have both fly fished before, but had not been on a guided trip. We learned a great deal and plan to do another guided trip with them so that we can continue to learn more. Our guide was very professional!

– Nancy, Yelp Review
---
'Exceptional'
5280 Angler is Awesome!!!

Three of us went on a day trip with Geno and from the beginning it was great.  Geno provided very clear and direct instructions all day long on our trip.  One of us, Mark, was a beginner fly fisherman, never having fly fished with a fly rod in his life.  He hooked and brought in a 10 pound  rainbow per the instructions from Geno.  By the end of the day Mark was feeling a lot more confident and showing off some of the skills he had learned during the day.  My son and I had taken a previous trip with Tim about three years ago and we had a great time then and learned a lot.  My son and I were rusty and had forgotten many of the small things Tim had taught us. Geno covered those items and got us up to speed quickly and then was able to go even further than what Tim was able to do with us before.  Geno, provided the same high quality instruction and enjoyment.  Not only is he a very good guide/instructor but he speaks well with people at their different skill levels.  Not once did he sound frustrated with us (which I consider  to be exceptional, especially after 8 hours on the water).  He did a great job going between all three of us all day long!

It is obvious after being with 5280 twice that their goal is to provide their customers with many new skills but to also have a great time!!! I have decided that I would like to arrange a fishing trip with them every year for a while to improve my skills at the beginning of every season.  I would also highly recommend potential customers to ask for Geno, who is exceptional! 

– Ted Mershon, via e-mail
---
'An Epic Day'
Jay,
as you know I found your company on the web last year and gave 5280 a try. Ron Pecore was my guide.  Since then I have been out with Ron around 6 times.  He is such a great asset to your company.  I call him my personal "sage" of fly-fishing.  He knows the rivers, hatch patterns, fly selection and where fish like to feed. And he has a teaching spirit that comes across as helpful and encouraging.   He has taught me so much the past two years and it has heightened my passion and skill for the sport.

Last Friday was the best trip I have had with Ron.  I ended up meeting Ron at Deckers and he asked me, "Are you up for an adventure?"  I said yes, and he took me into upper Cheeseman Canyon. We had what I call an epic day.  All nice big trout while we worked together.

Ron has the patience and communication skills, along with passion for sharing his skills to help build others up. I now have what it takes to read the river and anticipate where trout are feeding…When I go out on my own I have a heightened level of fishing competence.
He is a great teacher and I am grateful for the great times I have enjoyed with Ron and 5280.

– Mark Copelin, Manitou Springs Colo – via e-mail
---
'Perfect'
Marcelo was so fun and such an awesome teacher today. His attendance to my every need spoiled me rotten!! It was perfect. I caught huge trout, and two bad ass browns!! The area is awesome. I will have to go with

Marcelo

again!!

 – Molly, via e-mail
---
'Another Great Day'
Ron Pecore,

We wanted to thank you for another great day fishing with you.

I've been fly fishing for more than 25 years and been on many guided trips. No guide has taught me more or made the day more enjoyable than you. Your tips, tricks and instruction are unequaled. Every time I've been with a guide I've hoped to get better; I've done that every time fishing with you.

Did I mention the fish we've caught together? Each time we've fished we've not only caught numerous fish, but sizable fish as well. Twice my wife, who is a novice, has caught the largest fish – a testament to your instruction and encouragement.

Bottom line, you make the day fun in so many ways. Thanks again for all you've taught me (and my wife). I'll be calling soon to book another day together.

– Bob, via e-mail
---
 

'Can't Wait to Go Again'
Hi Jay –

Just wanted to leave some quick feedback. 

Wednesday

was my third time out with

Geno

, and once again he was a true professional that clearly understands fly fishing and the guiding business.  He works very hard.  It was the best day so far, and I'm learning a lot from him.  Can't wait to go again…

Thanks,

Kurt (via e-mail)
---
'New Passion'
Jeremy,
This  weekend marks our one year anniversary of fly fishing. Maia and I wanted to reach out and thank you for showing us a new life long passion and  addiction. We have become obsessed and had the times of our lives this year. We made some awesome trips, and it's all thanks to what you have shown us. We recently moved up to Washington. If you ever find your way up here and wanna fish let us know. Once again thank you for introducing to this life long addiction.

Thanks,
Johnny and Maia (via e-mail)
---
 'The BEST guide I've ever had'
Lisa & I had the greatest time yesterday! We can't and won't stop talking about the fabulous memories you've provided us.

Lisa can't wait to go fly fishing again. We have a convert now .

As I've said on numerous occasions yesterday you are not only the absolute BEST fly fishing guide I've ever had but a great teacher. I can't tell you how much we appreciate the vast knowledge you've imparted on us.

I wouldn't hesitate in the least to recommend you to other anglers!!

You are truly an exceptional person and we will cherish our time with you forever!!!!

Walt – Via E-mail
---
'Unforgettable Day'
Ben,

I want to thank you again for an incredible day. I really appreciate everything you did for my dad throughout the day and it paid off.

The whole drive home was smiles and stories. Unforgettable dad / son day and those are few and special.

I'm hooked too now and I will be hitting you up with questions as I get myself and my crew equipped.

Thanks again and we'll talk soon,
Patrick – via e-mail
---
'An Excellent Time'
Jay,

I just wanted to express to you how awesome this past weekend was. Geno is an awesome guide with the patience of a saint. He kept us on the fish and there was never a dull moment. Both Chris and I had an excellent time and I'll definitely be booking with you guys again.  I'm doing my best to shop out your business and telling people about my experience.

Thanks again,

Clint – via e-mail
---
'Exceeded my Expectations'
Jay,

I wanted to let you know how much I enjoyed the day at the 5280 Fly Festivus at Boxwood.  I have fished with your guide Ron Pecore many times and he persuaded me to sign up as he knew the potential for fun and angling excitement.  Well, it exceeded my expectations.

It was great to meet your entire team of guides.  You run a great company and I must say all the guides were professional, encouraging and patient.  The 5280 guide team are the "sages and zen masters" of the river.  They think fish, and know their habits and can help the novice angler feel special while building on personal skills and landing the big ones.

Again I am grateful for your team and especially Ron as he is my go to guy when it comes to teaching technique and finding fish.  But your whole team yesterday was impressive and I would recommend any of them for myself and my friends.

Thank you and again and I will see you next year at Festivus.
And the chef's lunch was the cream on top of a great day as his feast was amazing.
Sign me up early for 2017!

Mark Copelin
Manitou Springs
July 9th 2016
---
'Excellent at the Craft of Fishtrickery'
Hi Jay-

I wanted to take a quick second to thank you for setting me up at Long Meadow last week… I know it took some extra wheeling on your end, but I had a great time.  And further thanks for hooking me up with Ron.  He was truly excellent at the craft of fishtrickery and we played well together for an excellent day.  He always had the right rod, rig and tip ready so I could fully maximize my time on the water.  I will reach out next time I am in town and want to easily get into some fish.

Thanks again for your extra efforts… Both of you!

Dallas
#fishtrickery
---
'Phenomenal'
Jay –

Just want you to know that we had a great trip yesterday – even saw a moose!  Tom is a phenomenal guide!  We caught fish and learned a great deal about fly fishing.  5280 Angler is our favorite!

Bob
---
'Knowledgeable and Helpful'
Hi Tom,

I just wanted to tell you that we had a great time!  You are extremely knowledgeable and helpful, and made our day lots of fun!  I'm planning on picking up a fly rod this weekend and taking it with us to Idaho next week.  What you taught us will be sure to huge impact in our abilities to hook and land fish.

Take care,

Ron Hill
---
'Our Best Fishing Experience'
I just wanted to let you know how much my brother and I enjoyed our day at Long Meadow with Tom! I have never had a guide Saltwater or Freshwater so patient and genuinely interested in teaching and making sure we were enjoying ourselves. Tom took us from very raw beginners to where I now feel comfortable getting on the rivers myself with a better understanding of technique and presentation. My brother and I can't stop talking about how this was our best fishing experience and we are already talking about the next time he can come out from Maryland to book a trip with Tom.
---
'A Marvelous Guide and Mentor'
Thank you Gene. We had a wonderful time as well, both learned a lot and you got Andrea to touch and hold a fish. Not to mention her gaining confidence in a sport we both can now share enthusiastically. You are a marvelous guide and mentor and we will surely use you in the future. I can also assure you that I will recommend you to others.

Thanks for your patience, mentoring and friendship.

Cheers,

Ron and Andrea
---
'Hospitality'
Jay and Ron:

Thank you so much for a wonderful day. Joe, Mike and I really enjoyed ourselves and look forward to seeing you sometime in the future. I'd like to bring the whole family someday soon. The instruction, the fishing, the food and most importantly, the hospitality were great. The Moose sighting was the icing on the cake!

I wrote a five-star review for you guys on TripAdvisor. I hope you see a lot of business in the future because of it. You run a great operation and deserve to succeed in your passion!

Please let me know if you ever find yourselves visiting the Midwest. I'd love to host you for dinner at my restaurant.

Best regards,

Mark McDonnell
Founder & Proprietor
LaSalle Grill, a 19 year winner of the AAA Four Diamond Award
---
 

'The Greatest Fishing Day Ever'
Thanks,

Ron

.  This was probably the greatest fishing day ever. Shane probably won't stop talking about this until we do it again next year.

I learned a lot about fly fishing and truly appreciate the time you spent in explaining things to us. You certainly did a yeoman's job!

Thanks again and I look forward to going again next year!
---
PASSIONATE ABOUT SERVICE | WILD ABOUT FISH ™