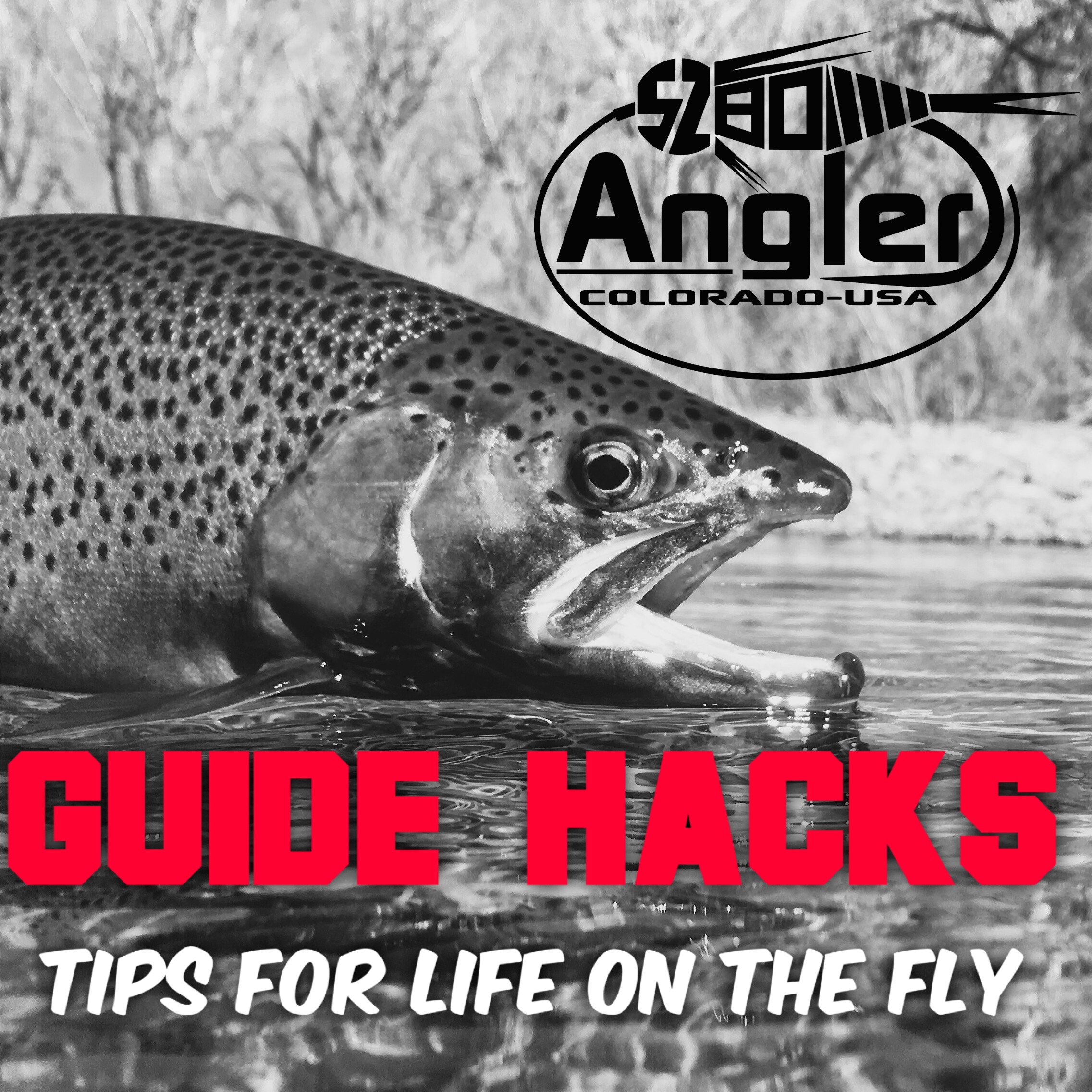 HOT TIMES IN THE SUMMER SUNSHINE: How to Find Midsummer Action at EVERY LEVEL in the Water Column!
"But we've got each other and gas in the tank,
We're laughing all the way to the river bank" – Brad Paisley, River Bank
As country singers, tubers, vacationers, and anglers all know, summer is a fine time to hit the river! The sun is out, the river is cool, and the bugs are active up top and down below. All of this means we anglers need to be on top of our game, both in terms of nymph fishing and also dry fly fishing. Here are some of my go-to midsummer fly fishing strategies. Check them out, rig up some rods, and hit the water ready to go!
As water levels along the South Platte system where we guide have mostly dropped, post runoff, I've adjusted my nymph rigs in response. Specifically, these adjustments involve spacing my flies further apart (about elbow through pinky), and I now use more 4x and 5x tippet configurations. The trout this time of year have now seen quite a few flies and perhaps also been caught and released a few times. In response to trout being a bit more savvy, I want my flies to be tumbling down river in an ultra-natural ("drag free") manner. I achieve this in summer by placing my flies 16 to 18 inches apart. The use of finer-diameter tippet also allows the flies to have more natural movement. With this lighter tippet, I can also detect subtle strikes a bit more readily.
I also use less weight. As I mentioned in an earlier post, summertime means trout move into the riffles and feed actively, so lighten the load in terms of your split-shot. This will keep your flies moving throughout the insect-laden summertime water column.
Finally, with all the moving around I do from riffle to riffle during the active summer season (both to find fish and to slide around all the extra people summertime brings), I make time to stop when setting and adjusting my strike indicator. Adjusting my bubble now becomes a priority every time I move from spot to spot. If I feel I'm not setup for the water depths in front of me, I will stop and move the indicator up or down.  Slow down out there and adjust as needed.
Summer is the season to have all your tools working together…use a First Cast Best Cast mentality, and strive for STEALTHY approaches. Let's talk a bit more about these actions.
Use your POWERS OF OBSERVATION now that the water has dropped and cleared. Stalk trout by moving slower on the bank. Your casting by now should be money, so take your time and place your cast accurately. If you're unsure of your cast, move away from the trout (downstream), do a practice cast to simulate the real thing, then re-approach your feeding target and make your best play! Be ready to set the hook on that very first drift.
I also have been bringing a dedicated dry fly rod out on every trip now (My Rod Vault is sure handy). I have been seeing several trout a day looking up to the water's surface, and we have been catching two or three a day on small PMDS and parachute olives. The Tricos are starting to hatch as well. Fishing a dry fly to a consistently rising large trout is simply the BEST! Don't forget your dry fly box, and be ready when the tipping and sipping starts!
Winter will be back all too soon, and "There Ain't No Cure for the Summertime Blues!"
TIGHT LINES & HAPPY SUMMERTIME!
Ron Pecore
---
Interested in hitting the water with Ron Pecore or one of our other professional guides? Write to us today!