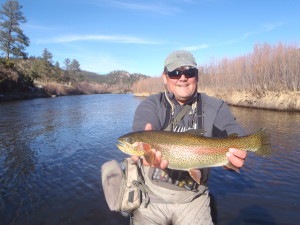 Fishing Date: 5 Jan 2016
River/Lake: South Platte River – Deckers
Section/ Specific location(s): Below Deckers
Weather:
   Air Temperature range during fishing: Low to High 40's
   General Weather conditions: Clear skies with lots of sun! No wind except for the occasional slight puff of
breeze.
Water Flow (CFS): 126 cfs         Water Temp/Time taken (or best guess): 38 Degrees at 12:00 noon
Water conditions/clarity (clear/stained/murky/etc): Gin Clear/Unlimited visibility
Hatches:
Fish Behavior/Location: Located fish on the bottom of the river
Fish location/where caught: Foam lines adjacent to seams, deep runs, and head of runs.
Where in water column: All fish caught were on the bottom.
Any other feeding behavior you noticed? All strikes were extremely subtle!
Ballpark number of fish landed/size: Landed six fish between 14 and 21 inches.
Type of fish: Three Rainbows, two Cuttbows, and one Brown trout
Flies that worked/sizes: Caught all fish on a #22 Purple Juju Baetis, and #22 Bazoulli Midges. The Bazoulli Midge
is a pattern that we (5280 Angler) developed for winter fishing – it has proven to be a
winner.
Other Comments: Fish are extremely slow, very subtle strikes. Again, it is imperative that you set on all
nuances in the drift. Make sure you make multiple drifts in each column. I fished up behind a
couple of guys who fished the water before me but not thoroughly enough. I got the fish they
didn't because they fished too fast!
Submitted by: Guide Geno Rea