LOOKING FOR SOME FLY FISHING NEAR DENVER?
Check out these top ten nearby spots to get your fly fix!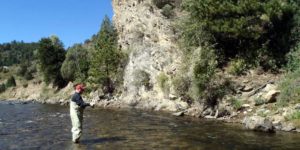 By Tom Caprio, 5280 Angler Guide 
Are you as tired of listening to political arguments as I am? If you need a quick cure from attack ads, incriminating videos, and name calling, these close to home fly fishing destinations all provide sweet relief from the endless election coverage. Fly fishing is one of those few pursuits that is totally in-the-moment, allowing stresses of the world disappear. All of these destinations are within 1.25 hours (most are closer) of the of the West Denver Metro.
Bear Creek between Morrison and Evergreen:   Many pullouts provide good fishing on Bear Creek along with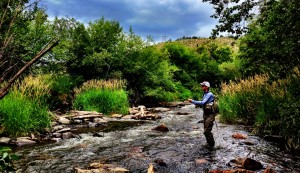 several town and JeffCo parks. Explore some of the out of the way places and parks and you can avoid the people.
South Platte, Two Forks:  Find access via Foxton Road in Conifer, turn left at the end, and follow the river to the confluence. You can fish downstream all the way to Strontia Reservoir.  Large stonefly patterns work well here. Fishing can also be good upstream on both forks.
South Platte, Waterton Canyon: Walk or bike up at least 1.75 miles. The good fishing starts below the diversion dam and continues another 3-4 miles upstream. It takes a little effort to get in there, but this stretch has a growing population of browns and bows.
North fork of South Platte, Pine Valley Park: Just north of the town of Pine lies this Jeffco park with a stocked pond and at least a mile of river. You can walk upstream quite a ways.  This section of stream fishes best when flows are at 25-75 cfs.
Clear Creek in the canyon: Travel west from Golden on Highway 6.  Recent stream improvements around Mayhem Gulch and upstream have improved the fishing and the new paved bike trail makes for easier access.  Lower flows allow more access.
Clear Creek along Interstate 70:  Lots of public water to explore! There are several areas where the creek bends away from the highway; offering escape from highway noise. There are lots of browns, some bows, and the upper reaches above Silver Plume have cutthroats.
South Boulder Creek below Gross Reservoir:  You'll hike down a fairly steep hill for about 1/3 mile (you'll have to climb out at the end) to get to this extremely pretty section of water.  The wilderness feeling, so close to Boulder, makes this fishery special.  Fishing is available downstream for miles into Walker Ranch Park.
South Boulder Creek in Eldorado Canyon Park:  Just south of Boulder off Hwy 93. You'll need a State Parks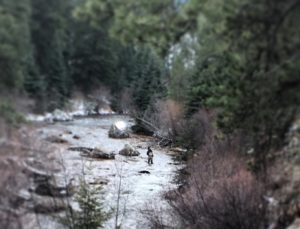 pass to enter. Some of the water requires some boulder hopping, other sections are easier to access. Admire the rock climbers above as they scale the towering red sandstone cliffs of this incredible park.
Middle Boulder Creek below Barker Reservoir: Head west from Boulder and up the canyon. Several pull outs are available and the gradient mellows closer to the reservoir.  Like most canyons, fish the wider/flatter sections at higher flows, and the higher gradient sections with low flows.
Fraser River between Winter Park and Fraser: Stream improvements a few years back increased holding water in this willowy section. Brook, brown and rainbow trout call this water home. Best to fish with fairly low water so you can walk up the river bed.
One of the joys of fishing these gems is that you don't need a massive arsenal of nuanced tailwater patterns. A few simple flies and a good drift should be all you need to hook into some fun. Some of my go-to fly patterns include parachute adams, elk hair caddis, stimulators, rainbow warriors, prince nymphs, San Juan worms, pheasant tails, black beauties, and jujubee midges.
Next time you want to escape from those election blues, or just need an awesome half day getaway, give these cures a try. You may be surprised what you find!
---
We offer guided fly fishing trips along several of these stretches. Write to us today if you'd like to head out on some close to home adventure!