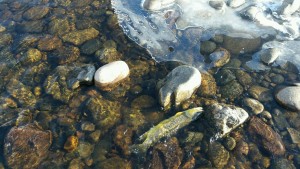 Trip Date: 11/24/15
Location: Colorado River Parshall area (below Williams Fork confluence and down to Breeze parking lot). 
Times: 11am-3pm.
Weather:      Air Temperature range during fishing: 20-40 degrees. party cloudy
Water Flow (CFS):  about 250.                 
Water Temp: Cold! probably high 30s/low 40s.
Hatches:  sporadic midges starting midday- size 22-24.
Landed 10 to 16 inches. Missed /lost 4-5 more. Mix of browns and rainbows.
Flies that worked/sizes: apricot egg, mercury midge-22, rainbow warrior 22.
Fish are healthy and good looking in this section of water. Since the Williams Fork dam is bottom release the Williams Fork and a section of the Colorado below the confluence remains open through the winter.
Guide Tom Caprio