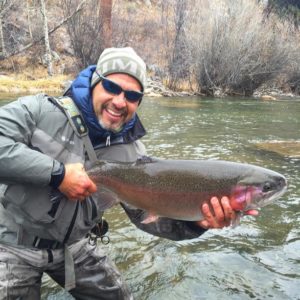 WINTER IS COMING. LET'S GO FISHING!
The weather and fishing conditions for 5280 Angler's Opening Weekend of WINTER AT BOXWOOD offered our guests a memorable Colorado environment in which to have themselves a pair of truly epic days – periods of light snow, sunshine, clouds, highs in the 30's, and, most importantly, AMAZING FISHING!
Steady flow from the Roberts Tunnel has provided sufficient water for Boxwood Gulch Ranch to remain open. In fact, the fish have remained on the feed and are are fighting like mad dogs! Water temperatures have remained fairly consistent despite recent drops in air temps. The fewer hours of daylight, however, have concurrently impacted active feeding hours. So, anglers and guides alike have been able to enjoy a later start, meeting around 9:00 a.m. This allows the sun to hit the water, the trout to respond, and anglers to be more comfortable!
The Boxwood Gulch Ranch Clubhouse offers guests the opportunity to wader up in warmth, to take coffee breaks whenever desired (though most folks find it hard to leave the water while hooking up with the legendary Boxwood Gulch trout), and to enjoy a nice lunch inside – away from the elements for a while. Finally, the patio fire is a WELCOME sight once the sun has dropped behind the mountains – bringing the temps down with it!
For the most part, the guides brought winter-style-fishing-tactics to the river.  With a few exceptions, the trout were routinely positioned in the many slow pools and tailouts of Boxwood's beautiful runs, generally holding near the bottom of the water column.
HOWEVER, Mike N. was able to pick off one of the few risers we did see with a stunning cast and perfect drift of an Amy's Ant! We also were able to hook into several of trout with small streamers, stripped methodically. Streamers we used included bouface, autumn splendor, slumpbuster, and woolly bugger varieties.
The majority of fish were hooked using nymph patterns such as eggs, midges, and small baetis imitations. Tension-nymphing tactics, using small indicators, or none at all, paid dividends for many guests, as they were able to detect the subtle strikes of large trout!
Stories of big fish, lots of fish, and lost fish went round the clubhouse at the end of the day. By all accounts, despite the need for a few extra layers of clothing, Boxwood Gulch Ranch is fishing as fantastic now as it was back in July!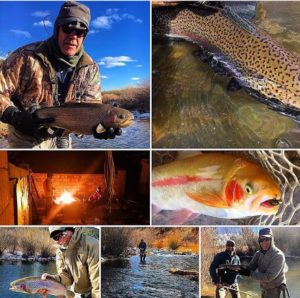 WINTER AT BOXWOOD, OPENING WEEKEND BY THE NUMBERS:
Over 200 fish landed!

5 different species brought to net: Rainbow, Cutbow, Brown, Brook, & even PALOMINOS!

29" - largest trout landed, by Mike L. on a small midge pattern!

11 anglers with lots of new stories to tell!

1 beautiful brown trout taken on a dry (congratulations Mike N. for nailing the trifecta of syles!)

Countless smiles, memories, and stories made!
Thanks to all the anglers who participated in opening weekend of WINTER AT BOXWOOD! Though most of our spaces for this special event have

sold out

, we still have a few openings available this month.
CONTACT US today if you are interested or have any questions we can answer.  We are certainly in store for some EPIC winter days of fly fishing!
---
Take a look at more of our pics from WINTER AT BOXWOOD: