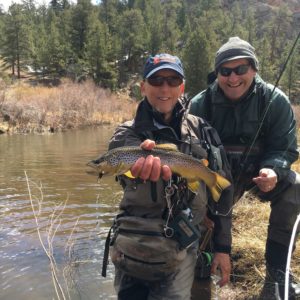 Fishing Date: 4/27/16
Submitted by:  Tom Caprio, 5280 Guide
Weather:
Air Temperature range during fishing: 40-50 degrees.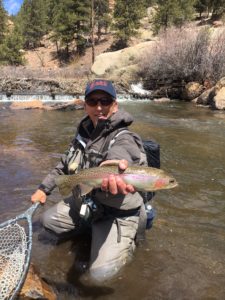 General Weather conditions: partly sunny, windy.
Water Flow (CFS):  45 and slow decrease
Water Temp/Time: cold early high 30s, warming through day.
Water conditions/clarity: pretty clear (the common Tarryall tea-stain)
Hatches:  very small midges in morning, bwo mayflies in afternoon
Fish Behavior/Location: Most all fish in slower/deeper runs, beaver ponds.
Ballpark number of fish hooked /size: 25 in 4 hours. Up to 17 inches.
Type of fish: wild browns and rainbows
Flies that worked/sizes:  Pink and red worms, 14 bh prince, olive slumpbuster, olive chrystal bugger. Mayfly dries.
Other Notes:
Williams Ranch has 2 miles of Tarryall Creek. Around each bend lies a new section of excellent habitat for wild fish. It's located below Tarryall Reservoir so the water isn't as stained during runoff and high flows. The Ranch also benefits from a feeder creek upstream during low flows. Wild browns and rainbows in various sizes include fish longer than 20 inches. The Tarryall Valley has historic Colorado charm – beautiful scenery, rustic ranch buildings and classic valley meadows… and very few people. It's one of my personal favorite places to fish and guide.
---
If you've never fished the Tarryall, you need to put it on your to fish list! We have both public and private water options available along this beautiful Colorado fishery. Get in touch to book your guided fly fishing trip and we'll help dial you in on this outstanding creek.

Passionate about Service | Wild about Fish™