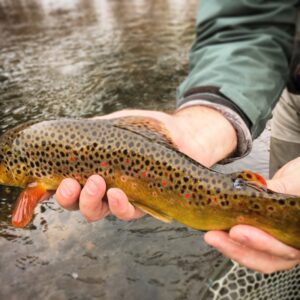 Fishing Date: February 2, 2016
River/Lake: South Platte River
Section/ Specific location(s): Near the town of Deckers, CO
Weather:
Air Temperature range during fishing: High 42
General Weather conditions (sunny/cloudy/windy/etc): Partly Cloudy
Water Flow (CFS):  100                Water Temp/Time taken (or best guess): COLD
Water conditions/clarity (clear/stained/murky/etc): Clear
Hatches: midges
Fish Behavior/Location: Middle of runs, Slower deeper water.
Ballpark number of fish landed/size: 4 Browns, 6 Rainbows
Flies that worked/sizes: size 10 brown stone, black and cream midges size 22-24.
Other Comments: Don't be afraid to use larger flies in the winter. Fishing no indicator, keeping the line tight helped identify subtle strikes.  Make sure to set on any movement of line and sight fish as much as possible.  The fish were actively feeding late morning but slowed down towards early afternoon.  Overall good winter fishing.
Submitted by: Jay Baichi