---
From the banks of the Dream Stream, guide Jeremy Hamilton delivers the mid November South Platte River fly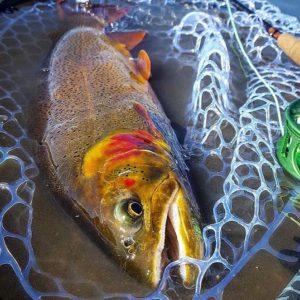 fishing report. Prior to filming, Jeremy was doing some incredible late fall dry fly fishing – check out this beauty of a cut!
Fishing overall has been great along the South Platte River. Look for blue winged olives as a primary food source this time of year. On the surface, Jeremy has been using parachute adams and parachute bwo patterns, as well as purple haze and comparadun patterns in size 20 and 22 on 4x tippet.
As for nymph fishing, Jeremy has been turning trout on red worms, apricot eggs (small), rs2's and chocolate thunders. Jeremy also has been using Shea Gunkel's incredible pattern, the Radiation Baetis.
Deckers is fishing well also. Most of the browns have finished up the spawn. However, keep an eye out and avoid any still paired up. Also, avoid stepping on the redds. The next generation of big browns are growing. Effective patterns have included eggs, Radiation Baetis, and smaller (sz 22-24) sparkle wing rs2's, both in black and olive. Also, keep an eye out for a trico spinner fall, later in the day, as long as temps stay warm. Trico spinners or small parachute adams will work great!
This fall & early winter, Boxwood Gulch Ranch is OPEN FOR FISHING! These fall days at Boxwood have been terrific, with great flows and warm temps! Even if the temps drop, the stream side clubhouse is the perfect place to take a break.
---