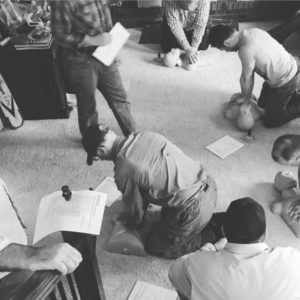 "SAVING LIVES IS WHY"
On Saturday February 4th, the professional guide team of 5280 Angler completed a comprehensive CPR & First Aid course with veteran American Heart Association (AHA) instructor and fly fishing guide Neil Luehring. Though online re-certification options are available, we believe there is no substitute for hands-on instruction. As anyone knows, "stuff happens." Although we cannot control every variable nor completely eliminate emergencies, we intend to approach a given situation with proper training and confidence.
The state of Colorado requires all professional fly fishing guides to work with a licensed, bonded, and insured outfitter, as well as to maintain up-to-date CPR & First Aid certifications. 5280 Angler® is CO licensed outfitter #2828. When booking a guided fly fishing trip in Colorado or elsewhere, it's advisable to check first to determine whether the service you are booking has the proper licensing, permits, safety and other legal requirements. If they do not, there's a good chance they are doing something illegal (rogue guiding).
When it comes to any emergency, prevention is the elegant solution.  As the saying goes, "An ounce of prevention is worth a pound of cure." On that note, here are a couple safety tips to consider when heading out on your fly fishing adventures:
Bring a first aid kit – From minor scrapes & cuts to more severe illness or injury, a high quality first aid kit is essential.
Bring any essential medications.
Tell someone where you are going – Cell reception doesn't reach everywhere.
Layer for the weather with synthetic fabrics – Hypothermia can set in quickly.
Wear sunscreen – Protect against both short term and long term UV dangers.
Hydrate – Both before heading out and also while on the river.
Wear glasses – Hooks and eyes DO NOT go together – eye protection is 100% essential – and a good polarized pair will help you spot more fish too!
Know your limitations – This goes for both hiking at elevation and also wading swift water. No fish is worth putting your safety at risk. (sidenote: wear a wading belt)
Throw a whistle in your pack – There's a much higher chance that the angler around the bend will hear a whistle than hear a yell. They are small, light, and loud when needed.
Though preventing every emergency is impossible, taking specific precautions can mitigate risk and possibly make a life-saving difference! As the AHA says, "Saving Lives is Why!"
---