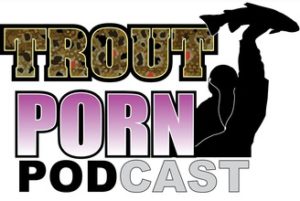 Have you listened to the funniest podcast in fly fishing?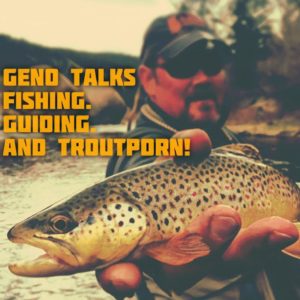 The TROUT PORN PODCAST, hosted by Rob (Trout Sniper) Griggs, Scott Long, and Steve Segura is recorded right here in Colorado and has been growing in popularity since its inception about two years ago. These three guys have a fresh approach to the fly fishing podcast genre. While listening, it's easy to feel like you are hanging out with your fishing buddies near the river, even though you might just be stuck in traffic or cleaning the garage. The funny and relevant episodes include talk of recent fishing trips, tips & tactics, independent gear reviews, guest appearances and more.
Put simply, it's a show about fishing.
Lead guide Gene Rea (Geno) sat in as the featured guest during the recent recording of episode 24. Topics included
fall fishing on the South Platte River,  midge fishing tactics, and nymph rig setups. Geno also told a few stories about his guiding career and got to answer a few fun questions during the podcast Q & A segment.
If you haven't checked out the PODCAST or Trout Porn Nation on Instagram or Facebook, they're worth a listen and a follow. 5280 Angler is excited to be an official sponsor of the podcast, and we look forward to hearing a lot more fly fishing stories and sharing lots of laughs!
The Trout Porn Podcast is currently available free via the following sources:
iTunes:
https://itunes.apple.com/us/podcast/trout-porn-fly-fishing-podcast/id1035062584?mt=2&i=377313570
••••••••••••••••••••
Stitcher:
http://stitcher.com/s?eid=48094166&autoplay=1
•••••••••••••••••••••
GooglePlay
https://goo.gl/app/playmusic?ibi=com.google.PlayMusic&isi=691797987&ius=googleplaymusic&link=https://play.google.com/music/m/I6zcmi3rrhapq4l4mj2yttzc7sq?t%3DTrout_Porn_Fly_Fishing_Podcast
•••••••••••••••••••••
Website:
www.troutpornnation.com
---

PASSIONATE ABOUT SERVICE | WILD ABOUT FISH ™