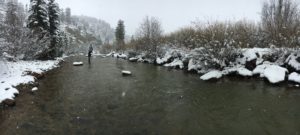 "FORGET THE FORECAST (CATCH FISH LIKE THIS)"
April 30, 2016
We've all seen the eye-catching "Forget the Forecast" style ads in various fishing magazines depicting hardcore anglers braving the elements in search of  trout. The weather and fishing conditions for 5280 Angler's Opening Weekend at Boxwood Gulch Ranch presented our guests with just this sort of memorable environment in which to have themselves a truly epic day – Snow, sleet, clouds, wind, highs in the 30's, and, most importantly, TRULY FANTASTIC TROUT FISHING!
The late April storm that brought winter weather to the Colorado high country definitely did impact HOW we fished, but it did not impact IF we fished. Guides and guests bundled up (inside the particularly handy confines of the stream side Boxwood Gulch Clubhouse) and headed out in search of the legendary Boxwood Gulch trout.
The water conditions (cold & off color) dictated that we bring our winter-style-tactics to the river. As our guides had expected, the trout were routinely positioned at the extreme tailout (on the seam between a little current and no current) of each run, and located along the very bottom of the water column – most often in the deepest sections of the river. The off color water offered our guests the opportunity to fish larger fly patterns including eggs, worms, larger stonefly imitations, and even streamers (stripped slowly).
In terms of the fishing, there were two fundamental keys to success all day long:
1. Dial in the proper amount of weight for each situation…meaning enough to get the flies to the bottom, but not too much to hang it up.
2. Detect the extremely subtle strikes – The fish were taking flies, but they weren't moving far to get them. Also, counter intuitively, the larger the fish, the more indistinct the strike. Our mantra of the day: "If in doubt, set the hook!"
Though it's unlikely that any angler would rather need to forget the forecast every time out on the water, I have to say it was pretty cool to chase stunning rainbows amidst a Colorado powder day!
If Opening Weekend at Boxwood Gulch Ranch is any predictor of the season ahead, we are certainly in store for some INCREDIBLE days of fly fishing!
Take a look at more of our pics from Opening Weekend: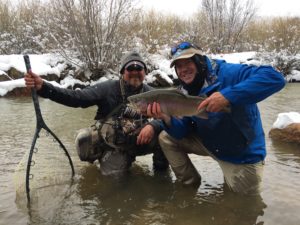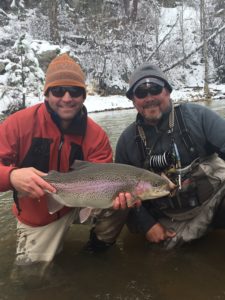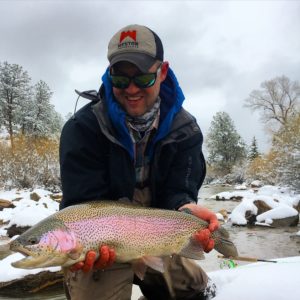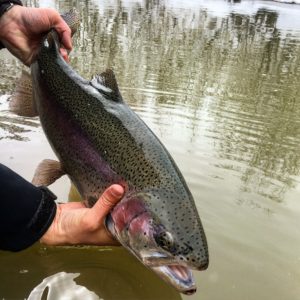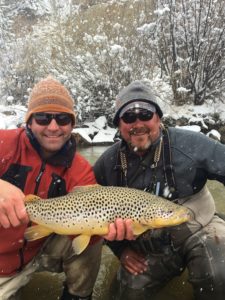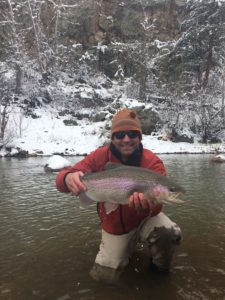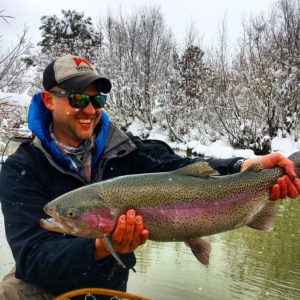 ---
Thank you to all of our guests for braving the elements and making Opening Weekend 2016 so memorable!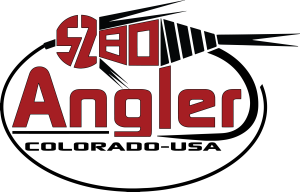 Passionate about Service | Wild about Fish™