A quality net is a critically important tool for any professional fly fishing guide. Fishing with a net not only increases your odds of landing trout, it's a far better way to handle trout efficiently and effectively. A good net minimizes handling during hook removal, and allows the trout to stay in the water more often throughout the entire catch – photo- release process. Our guides are often asked about specific preferences in terms of makes and models, and also for netting tips.
Below, we've compiled some great tips and advice from our pros to help you both make the right choice and the right move when it comes to buying your next net and netting your next trophy!
---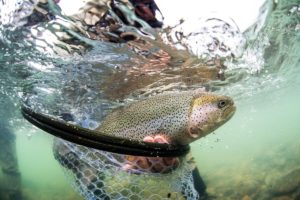 NET CHOICE: I use Fishpond's Nomad Boat Net. Like all the nets in the Nomad Series, the Boat Net is constructed using carbon fiber and fiberglass composite. It is lightweight, durable, and offers less resistance and drag in the water when netting fish compared to similar-sized wooden nets. Having a light, yet large, net is awesome for long days on the water. The fact that it floats is an added plus as well. The long handle and large basket can't be beat. Finally, changing out a net bag is quick and relatively simple when the time comes for a replacement. The rubber bag of the Nomad Series nets also prevent flies from getting stuck.
NETTING TIP: Always try to net the fish on or near the surface of the water and always head first. It's almost a sure bet you will not land the fish on the first go, or possibly lose it altogether if you attempt to net tail-first. Trailing flies may also catch the net bag, popping the fish. Remember, fish can't swim backwards.
---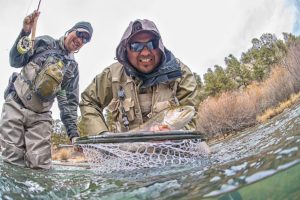 NET CHOICE:
 I recommend any net with the following 3 key ingredients: LONG HANDLE. LARGE BASKET. RUBBER NET. On many
guide trips
I talk about why we use long handle nets. When we are fortunate to hook a really large trout out on a guided trip, we want to maximize every opportunity to get that fish in the net. Having the right net with a long handle and large basket comes into that equation.  The same truths hold true in their own fishing – they want to do everything possible to get it in the net! If they only have a little net with a short handle, a trout of a lifetime could be lost to the fault of the little net. A long handled net can also be used as a wading staff, and you can have a measurement scale on it as well. Finally, that it's important to have a rubber bag for the safety of the fish, minimizing the impact on its protective slime.  Nets with large baskets, long handles, and rubber bags make a great gift! Pass those little nest on down to the kids!
NETTING TIP:  I tell my clients that sometime during the battle with a trout the fish will be exposed near the surface or show a moment of weekness. What I mean is, the fish will come to the surface and flop around a bit, at this moment he can't use the power of his head nor tail and it's the time to "water ski" him to the net! His tail  is his engine and when he's on the surface he can't use it and it's easy to slide him to the net. Be sure not to lift the trout, but rather to slide him instead or "water ski" him right on in for a landing!
---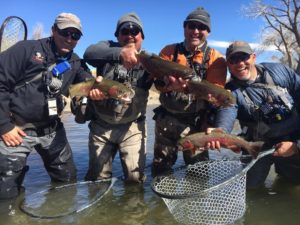 NET CHOICE
: My choices differ depending upon whether fishing from a boat/raft or wade fishing for a variety of reasons. Just like the way different situations dictate rod choices, the same is true for nets. So, my favorite wading net:
Fishpond Nomad Mid-Length Boat Net
 My favorite boat net:
Fishpond Nomad Boat Net
. Both nets obviously feature the lightweight & big basket advantages  – the difference really is in the length of handle. These over-sized baskets really pay off when it comes to big fish and during hair-raising battles when all you can do is scoop and pray it somehow ends up in your net.
NETTING TIP: When making the final move to land your fish, raise the head and shoot quickly to scoop it from head to tail.
---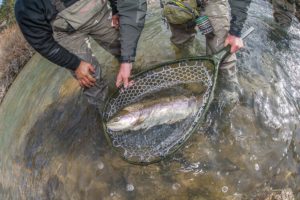 NET CHOICE:
My favorite net is
Fishpond Nomad Series Guide Net
.  I LOVE how light these nets are! I used similar-sized wooden nets (and still do from time to time) but there is a significant weight difference. On long hikes and long days, that weight difference really matters.
NETTING TIP: My best tip for netting is to have fun with it. Make the angler bring the fish to you (or if fishing alone, bring the fish to you). Do  not chase the fish. Focus on properly fighting the fish, rather than chasing it down. Plus, you do not want to go unnecessarily running after a fish only to blow a run that could potentially hold a lot more trout.
---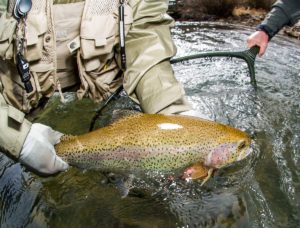 NET CHOICE & TIPS (Combined):
Whether a novice angler or a seasoned veteran, choosing the right net for the situation can be the difference in a day to remember or the heartbreak of losing the fish of a lifetime. With the myriad of options available on the market today and the variety of fishing situations our beautiful state has to offer, there are a few factors to consider when choosing a net that's right for the job.
SIZE: No matter what the ladies tell you fellas, size DOES matter. All kidding aside, there's nothing worse than being under-gunned against a monster trout (or a big carp for that matter) or being overburdened when a large net isn't needed.
When guiding, I'll typically use the full length
Fishpond Boat Net
. The basket is large enough to handle the beastly trout on some of our private water locations (
Boxwood Gulch
, etc.) or the massive carp on the urban Denver South Platte with ease. Sure you can conceivably land bigger fish in a smaller net, but the issue then becomes handling the fish properly to ensure that the fish is stressed as little as possible and your hands stay free of hooks. The larger basket gives you plenty of room to work and makes corralling your catch for a picture an easier experience (for both you and the fish). Also, the Boat Net's length makes it an ideal walking stick/wading staff in the clutch or to assist clients in and out of the river.
Many of us also know that most fish are lost within the last couple feet of the net, so a little extra length can be quite helpful.
For my personal fishing, and when fishing areas where rock scrambling/tight brush are issues, I use the
Fishpond Mid-Length Nomad Net.
With the shorter handle, you're much more agile and keep a smaller profile when bush whacking, making travel between your favorite holes both safer and easier.
I also use the Fishpond nets because of their most attractive feature, their construction materials…..
MATERIALS:  As I mentioned earlier, the Boat Net can be used as a make shift wading staff to navigate a less than desirable river crossing, partly due to its construction.  Having the net made of carbon fiber and fiberglass makes it incredibly durable and VERY light, a great combination for any piece of fly fishing gear, as we tend to put gear through its paces being on the water day in and day out. I've aggressively scooped many a fish on shallow, gravel-bottom riffles with no fear of breaking the net.
The thick rubber 'ghost netting' material is also the way to go for a few reasons. Firstly, your flies don't bury themselves in it as they tend to do in the finer cloth netting materials you typically find in other trout nets. Anyone who's destroyed a few #24 rs2's trying to remove them from a mesh type net knows what I'm talking about. Secondly, the rubber netting is gentler on the trouts' slime coating than finer cloth mesh and helps reduce fish mortality rates after release.
The Fishpond nets are also released in a series of aesthetically pleasing finishes. While many fishermen are more 'substance over style' type folks, who doesn't like to be seen looking good on the river? While not the cheapest nets on the market they're well worth the money in my opinion.
Hopefully this provides a little insight when purchasing a new net, whether it's your 1st or just your latest upgrade. Tight lines, all!
---