BIO
Kurt has been all over, and he's brought his fly gear along for the ride. He got his start with bluegills and poppers in the Midwest. Later, he spent time in Florida chasing bonefish, tarpon, and sunshine. Needing a little more elevation in his life, Kurt headed to Colorado where he honed his trout skills on the famous South Platte River. Kurt and his wife have been all over the world, chasing fish and making memories. Lately, Kurt has taken up custom rod building. "It's something fun to do," He says. Kurt is also a rock climber, and sees a real connection there with fly fishing…beautiful scenery, true focus on the task at hand, and pure clean fun!
---
ESSENTIAL GEAR
Denver Outfitters Titan Rod Vault – Rigged & Ready…No muss. No fuss.
The Kitchen Sink – Gotta have it all, and I love buying new fishing gear.
Journal – The only way to capture "Deep Thoughts with Kurt Johnson." 
ONE WORD TO DESCRIBE YOUR FISHING STYLE
Elegant – That's what my wife tells me anyway.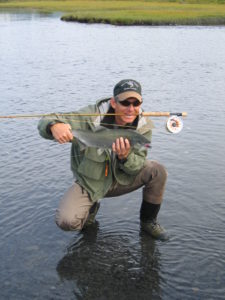 DREAM TRIP
Spring Break with the 5280 Angler team. 
CONFIDENCE FLIES
The biggest, baddest, gaudiest, most offensive streamer in the box. Go big before you go home.
CELEB YOU'D LIKE TO GUIDE
Click & Clack from the Car Talk radio show. I could show them how to rig up, and they could show me how to change my diff fluid.
WHEN NOT FISHING
I'm doing a little carpentry, dabbling in YOGA, building fly rods, tying flies, planning vacations, moving to Seattle, moving back to Colorado from Seattle, and crafting customized data solutions for computer networks.
FAVORITE STREAMSIDE SNACK
Swedish Fish Candy – Good Karma.