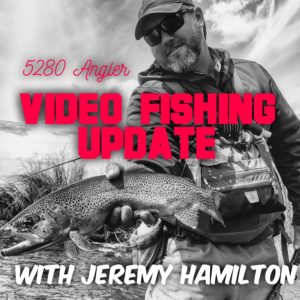 This week's report is brought to you LIVE FROM THE RIVER! Jeremy explains that you'll want to stock up on TRICOS, Pale Morning Duns, and Blue Winged Olives.
Nymphing, in general, has been more productive than dry fly fishing, especially into the afternoon. Later in the day, have those hopper patterns ready.
The mornings, however, have shown some great dry fly fishing on small trico patterns. You'll want to downsize the tippet and focus on your presentation.
Work hard to keep fish wet this time of year. Minimize handling as water is warmer and the fish have shown signs of stress. Eliminate contact all together whenever possible. Crimp the barb, use a rubber basket net, play the fish as quickly as possible, and return the trout to the water ASAP. Together, we can protect this incredible resource.
Jeremy also recommends exploring the high country streams this time of year. Crowds have been heavy (including tubers) on some of the front range tailwaters. Getting up high is a great way to stay cool and find some adventure!
Good luck out there everyone!
---