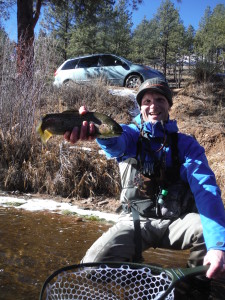 "I am NOT driving a damn minivan," Meg declared as our car talk went round the kitchen once more. The feeling was mutual. Minivan? No. Still, a growing family meant the time had come to say goodbye to our Wrangler. What could fit our new dual criteria: family roadster and respectable guide rig?
As an angling family man, this was the perfect chance to demonstrate that we needed a crew cab 4X4 pickup. Nothing else could haul Copper (our diva of a dog), Mom's wardrobe, my fishing gear, our six-month-old son, and all that cubic footage of bright baby paraphernalia. The conclusion was gin clear. We needed a TRUCK!
Done deal.
BUT, what about the budget? Oh yeah, that. Flexibility? Uh-huh. Mileage? D'oh. Convenience? shit. Like a rock, casted to in earnest, the beast of my dreams was revealed to be a delusion. The nightmare minivan was reality.
Standing in the slushy lot of a Denver area dealership on a Thursday afternoon in mid-January, I stared down the aerodynamic snout of my vehicular truth. Painted "Blue Mirage Metallic" and encapsulated in molded plastic, she was a bitter pill to swallow. For the conceivable future, Tyler, the salesman with whom I negotiated, would be rolling in his loaded Tundra up to the South Platte (ironically, Tyler also happens to be a fly fisherman) while I would be tootling in our new-to-us 2007 Toyota Sienna LE. dammit.
The following Saturday, Sienna made her not-so-highly anticipated maiden voyage. The seventy-one miles between home and tailwater were all she needed to cast her minivan magic. Underneath that gentle exterior revved a woman with purpose. Steadily (the only way a minivan does business), Sienna showed me just how wrong I was to hate her.
My shift in attitude began as soon as I pushed her buttons (the keyless entry kind). Sienna's twin power sliding doors and spacious cabin invited waders, boots, bags, nets, and strung-up rods aboard with the ergonomic grace and versatility of a guide strength fanny pack. Barely off the ground, our YETI full of beer slid into her cargo area smooth as a silver bulle-"YO, TYLER, check out THIS Tundra!" As for her angling guests, Sienna's second row of comfy captain's chairs proved "SHOTGUN" to be pointless. We all sat up high; checked things out.
Did Sienna putt-putt her way up the hills, sharing the shoulder with snickering cyclists? Did she lumber through tight turns with the agility of a circus elephant? Nope. She handled the undulating S curves of Co Rd 67 with steady performance reminiscent of a working mother on a stair climber. She got it done.
Floating down the final descent toward Deckers, I glanced right as the South Platte came into view. A comforting thought, born out of Sienna's cloud-like ride and the sight of familiar water, hooked my imagination and eased my lingering sense of inferiority: I envisioned my once dreaded minivan as the automotive reincarnation of a 30 inch rainbow: efficient, streamlined, and as lovely as she's big. My brother-in-law, Jesse, might just have been right. Rose-hued gill plates, airbrushed in reverence, were about 102,317 miles overdue.
Turning left after crossing the bridge, Sienna eased unhurriedly along River Road. As I replaced my coffee cup into one of seven (7!) cup holders within arm's reach, we came across a decal-laden, rod-vault-wearing SUV roadside that screamed to all passing fishermen, "You should fish HERE!" Conversely, with the stealth of a ninja princess, my Sienna LE slipped her smooth blue silhouette into the perfect riverside pullout with barely a whisper, "Don't worry, we're just a sweet family, letting our golden retriever out for a swim." Unlike most people I have fished with, I knew she'd keep my secret spots, secret.
Therapist-quality confidentiality, first class comfort, grandmotherly hospitality, and front wheel drive frugality….these are but a few of the many unappreciated promises minivans have fulfilled to fishermen for generations. Today, I write proudly that Sienna is my van, and I am her vangler (van driving angler). She carries my rods, my reels, my friends, and my family to the river. In turn, I carry her keys in the chest pocket of my waders. thump-THUMP (jingle-JINGLE). thump-THUMP (jingle-JINGLE). thump-THUMP (jingle-JINGLE).