Is 5280 Angler licensed, bonded, and insured to guide in the state of Colorado?
YES! 5280 Angler proudly maintains the requisite licensing, insurance, and permitting to conduct commercial outfitting and guided fly fishing in our home state. "Rogue guiding" (aka guiding without insurance, license, & permit) is unethical and is illegal in Colorado. We are dedicated to professional service and integrity. We are Colorado Outfitter #2828
When is the best time to go fishing?
We believe that the famous writer Roderick Haig-Brown answers this best: "There will be days when the fishing is better than one's most optimistic forecast, others when it is far worse. Either is a gain over just staying home." 
Meaning, we think the best time to go fishing is when you can get out for the day. Colorado's incredible weather means we can fish year round. That said, if water or weather conditions are unsafe, or if the water is unfishable, we will not head out, and we'll reschedule our trip with you.
What is included in the cost of my trip?
There are no "catches" in booking a 5280 Angler guided fly fishing trip (other than the fish, of course!). Meaning, we take care of all the details to ensure you are equipped to chase trout and ready to enjoy the experience completely. Our trips include:
Cooler, Ice, & Bottled Water
Lunch (full day trips only)
What is not included in the cost of my trip?
Guide gratuity is not included as part of your payment, and is by no means mandatory. However, gratuity is much appreciated both as part of a professional guide's salary and as feedback for a job well done. Gratuity amounts are always discretionary. Customary to the industry as a whole, for example, is a $100 tip for a day of quality, professional service.
Can I bring my own equipment?
Yes. Although we'll have you covered if you need anything, you're welcome to bring your own favorite fishing equipment.
What else should I bring with me?
Sunglasses (polarized are the best choice, if possible)
Hat (reduces glare and serves as additional sun protection)
Layers & rain jacket (weather in Colorado is unpredictable)
Note: When you book a trip you will receive a comprehensive "TROUT CHECKLIST" for additional trip information and details about what items to bring along in order to maximize your day with 5280 Angler.
How long will we be on the water?
Full day trips spend 6 1/2 – 7 hours on the water with additional time set aside for lunch.
Half day trips spend 4 hours on the water.
How do I know where & when to meet my guide?
Upon booking a trip & confirming a date with 5280 Angler, your guide will contact you approximately one week prior to your trip to review details and give specific directions with regard to when and where you will meet. Meeting times and locations will depend upon current fishing conditions & stream flows. 5280 Angler guides make every attempt to accommodate preferences with regard to locations, meeting times, and other special requests.
Will we keep any fish?
 5280 Angler trips practice catch & release fishing only. We let 'em go, and let 'em grow.
I've never fly fished, but I'm thinking about trying it. Is a guided trip a good idea?
We get this question all the time. The answer is an emphatic YES! Fly fishing is so much fun, and a guided trip is the best way to jump start both your short term and long term success with the sport. Our guides are industry leaders in helping brand new anglers get started on the right path.
What seasons do you fish?
We fish year round. We guide Front Range rivers that are open and very fishable even in winter. With a few extra layers and the radiant Colorado sunshine, winter trips can be pretty amazing. Our busiest months, however, are April through October. Interestingly, seasonal differences do dictate different fishing tactics. For many, this is a great reason to book multiple trips through the different seasons in order to practice and master these different approaches while enjoying the year round glory of Colorado fly fishing.
Can I bring alcohol on my trip?
Yes, as long as you are 21 years of age or older and drink responsibly.  *Some areas may not allow alcoholic beverages.
Do you sell gift cards?
Yes, 5280 Angler Gift Cards are available for purchase in any denomination. Our gift cards are the perfect way to treat friends and family members to a Colorado fly fishing adventure they won't forget. Please call or e-mail us to purchase.
What is the refund/cancellation policy?
We fish rain or shine as scheduled. Cancellations or no-shows on the day of the fly fishing trip will be billed in full for the day. Cancellations due to dangerous weather, as determined by professional 5280 Angler guides, will be rescheduled to a different trip date taking place within one year from the date of the original trip. From 30 days up to 7 days before the fly fishing trip the deposit is non-refundable, but may be applied to a different trip date taking place within one year from the date of the original trip. Colorado trip cancellations from 7 days prior to the day before the trip forfeit the deposit. Gift certificates are to be paid in full on purchase, are good for one year, and not redeemable for cash.
Can you accommodate a large group?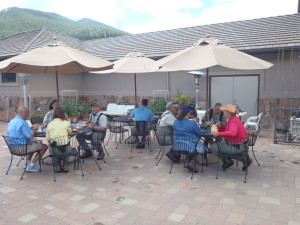 Yes, we've had the pleasure of serving many corporate and large group events. Whether it's a business get together, family outing, bachelor/bachelorette party, anniversary celebration or otherwise, a group fly fishing event is a great way for everyone to have fun in the Colorado outdoors. We often recommend the Boxwood Gulch Ranch property for these events because the ranch has a large and luxurious riverside clubhouse to ensure everyone is comfortable throughout the day. If you're planning an elevated corporate or large group outing, please contact us today. We'd love to talk with you about how we can best serve your next big event.
How old does my daughter/son need to be to join me on a trip?
Due to the nature of moving water environments and the type of equipment we use, our general rule of thumb for kids with no previous experience is age 12. However, that said, we have also guided children younger than 12. Our main goal is to ensure that everyone has fun. Give us a call to discuss your specific circumstance and how we may be able to serve you.
Does 5280 Angler offer a "rewards program" or other discount for booking multiple trips?
Yes, we offer our special FREQUENT FISHERS PROGRAM, which provides a special discount for anglers deciding to purchase a second trip, as well as for those who fish with us regularly. Give us a call to take advantage of this year's customer appreciation program savings!
Do you offer float trips as well?
For clients looking to do a float trip, we work with FISH ON COLORADO. Please CONTACT US for more info.
Are you also a fly shop?
Guided fly fishing is our sole focus. We've chosen to focus all our passion and energy into being on the water more often with people just like you. Our aim is to craft the very best guided fly fishing experience in Colorado.  
IF YOU HAVE OTHER SPECIFIC QUESTIONS, WE'D LOVE TO HEAR FROM YOU.
info@5280angler.com or 720.450.7291