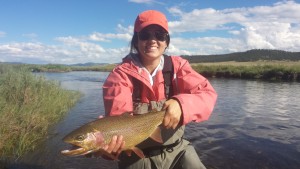 The Dream Stream has been hot and lukewarm recently.  If you catch it on a day when the bugs are hatching you can expect sensational dry fly fishing with yellow sallies, pmd's, caddis, tricos, hoppers an occasional blue winged olive as well as some callibaetis in some areas.  In other words, a bit of everything.  Even the big fish have been looking up. The best dry fly fishing has been occurring mostly on warm, sunny days.  We've been starting the mornings off nymphing with chocolate brown san juan worms, pmd barr's emergers and black rs2's. Once the sun starts to warm the air the trico spinners have been the first bugs to make their appearance.  Once you see noses poking out of the water tie on a pmd dun pattern in a size 16-18 followed by a trico spinner.  The fish have been eating both.  As the day progresses the fish have been focusing more on yellow sallies and pmd's.  A size 16 yellow stimulator works well for the yellow sallies and sparkle duns for the pmd's. Late in the afternoon and early evening caddis are hitting the water and the fish have been paying attention.  We've been having great success with just about everything we throw at them on days with lots of bugs.
If there are minimal bugs hatching be prepared to nymph most of the day.  The previously mentioned nymph setup has been working well throughout the day.  Expect to work a little harder for your fish if you're nymphing all day.  However, the average fish size has been a little larger. Move around a lot to find feeding fish.  They have been holding mostly in the riffles and around structure in
deeper holes where the water tends to be more oxygenated and cooler.