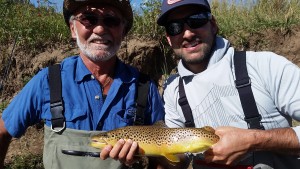 Today Sept 20th I took a father and son out to Deckers.  The flows were around 300  cfs and clear.  Our morning started out with a bang  when John caught a nice 17 inch male brown on his first cast.  From there we had steady action all day. 
The first hatch in the morning were very small Tricos size 22 or 24.  As the morning passed  size 20 Blue wing Olives started to come off with a few PMDS and a occasional yellow sally stone.  My nymph rigs were set up with a tan worm and a 18 pheasant tail  with a 22 spent wing trico.
Later in the morning I took off the trico and put on a olive 22 RS2 on one rod and a 20 grey RS2 on the other.  I left  the worm  on one rod and put a dark green Pats Rubber legs on the other.  So each Angler had his Meat and Potatoes with his small RS2 on the bottom.
    
Both clients fished very well and hooked about 10 each, and landed 8 or so apiece.  It was a great day.  Once again the key was to be patient with the riffle and be on top of your weight and indicator adjustments. 
The male browns are on the move and most of the fish caught were male browns  with our best about 18 inches.
Fall is coming early I think and we are in for a great fall run. Please avoid the Redds.
Tight Lines
Ron Pecore
Senior Guide