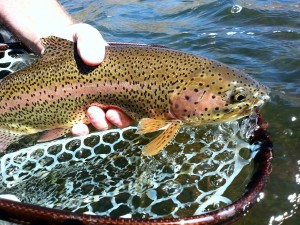 August, 20 – The fishing downstream from Deckers is on fire right now. Trico spinner falls are getting the day started around
9:00 am
. I use a size 20 parachute Adams followed by a size 20 trico spinner. The slower water along the edges has lots of feeding fish. After the spinner fall ends around
10:30 – 11:00
you can then fish hoppers and stone flies on the surface. I like a size 10 Amy's Ant to cover both bugs followed by a smaller hopper.
I really don't think nymphing is necessary and frankly I get tired of looking at strike indicators all day. However, if you feel the need to do so a brown Pat's rubber legs followed by a caddis pupa will catch a lot of fish.
Try fishing some of the less crowded areas way downstream from Deckers. The fish are far less pressured and will eat dries all day long. On average, they are a little smaller farther downstream but you can catch lots of fish. You may also be surprised by a monster every now and then.
Senior Guide Jeremy Hamilton