"I've taken Intro to Fly Fishing. Now What?" 
Our Advanced Clinic are designed for anglers who want a deeper understanding of specific fishing tactics.  Clinics are 6 hours in length and take place on the water.  These clinics are best suited for Anglers who possess a basic foundation of fly fishing knowledge, or have taken an Intro to Fly Fishing class.  Anglers in these clinics are asked to provide most of their gear and terminal tackle such as flies, leader, and tippet.  5280 will provide waders, boots, and fly rod if needed.  Anglers will need to provide a lunch and have a valid fishing license.  Gratuity is not included. 
*NOTE: Course fees are non-refundable. However, refunds will be given in the event that 5280 Angler cancels the clinic due to weather or other safety concerns.  Private clinics can be arranged for groups with a minimum number of anglers.
---
Backcountry Fly Fishing Clinic
Rocky Mountain National Park
Fly Fishing and "Getting away from it All" go hand and hand, and there is no better place than Colorado's own Rocky Mountains to fly fish. But getting into the rugged back country takes proper planning and knowledge.  Our Backcountry Clinic is designed for anglers who enjoy hiking or backpacking and who want to improve their fly fishing during high altitude excursions.  In addition, you'll get insight into how to prepare and where to fish based upon years of back country fly fishing experience.   This clinic is designed for the novice and above fly fishers (not beginners).
Topics Include (all geared towards back country lakes and creeks):
What to bring and tips to reduce fishing gear weight
Back country survival essentials
Casting techniques and tricks
Fly selection including seasonal influences
Fishing strategies – where/when to fish
Fishing techniques
Using topo maps to find fishing spots
How to pre-determine fish size potential for  specific lakes/streams.
Clinic cost includes 1-2 hour pre-trip meeting to go over essential gear and also Q & A session. Meeting will be in a TBD 7-10 days prior to trip
Cost: $130/Person  (Minimum 4 anglers, Maximum 8)
*Course fee is transferable, but non-refundable.
Location: TBD waters east side of Rocky Mountain National Park.
Dates: June 29th and August 6th
Details: 6:45 am Meeting at Beaver Meadows Visitor Center near Estes Park then drive to trailhead.  Hike will be 2-3 miles each way. Clinic will be about 5-6 hours once we've reach the destination, and then hike out.
Save Your Spot for
June 29th 
Save Your Spot for August 6th 
Pre-Clinic Meeting: September 6th, 6:30-9 pm – Littleton, CO
*Fitness requirements: Able to hike 6 miles roundtrip at a steady pace, with about 1000' elevation gain while carrying a pack with fishing and hiking gear.
*Not included: Anglers need to provide their own equipment, waders, flies (list to be provided), lunch, Colorado fishing license and park entry fee.  Guide gratuity not included.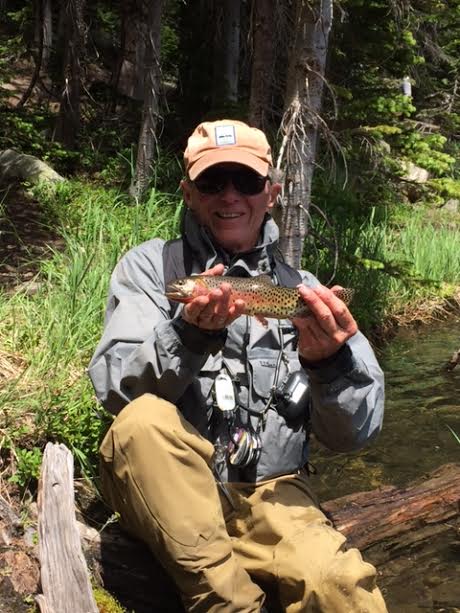 ---
Still Water Clinic
Private Lake
Still waters, such as lakes and ponds can be hard to "read" and intimidating to fish, especially with a fly rod.  Learn different fish catching techniques and gain insight on the flies to use and what areas to fish. This clinic will give you the skills to help you fish lakes more effectively and short cut the learning curve.   Emphasis will be on techniques for high country lakes and reservoirs, but these same techniques can be used on any lake.
Topics Include:
4 primary still-water techniques for lake fishing and the rigging for each. 

Still water food sources, feeding patterns and fish behavior. 

Fly selection for lakes

Reading the water/Finding the fish

How lake fish respond to changing weather conditions and seasons

Cost: $125/Person (3 Angler Min/6 Angler Maximum)
Location: Private Lake Near Silver Plume, CO 
Clinic Dates: Contact us for the next available date, or arrange a private clinic for a group 3 or more anglers!
---
Nymphing Clinic
South Platte River 
In many of our rivers trout feed the majority of the time beneath the surface on the aquatic juvenile stage of an insect (called a nymph).  The most successful fly anglers understand this and are masters at presenting their nymph flies beneath the river's surface to feeding fish below.  This technique is called Nymphing and is an important skill to have in order to be a well-rounded fly angler.  The Nymphing clinic will improve your nymphing technique and increase your fish-catching success and enjoyment on the water.
Topics Include:

Rigging and fly selection
Reading the river
Understanding trout feeding behavior
Responding to changing flow and weather conditions
Various styles of nymphing: High Sticking, Tight Lining, and Long Lining with indicators
Following the hatch.
Interpreting "The Strike."
Playing large fish and landing tips.
Cost: $125/Person (3 Angler Min/6 Angler Maximum)
Instructor: 

5280 Staff
Location: South Platte River, Deckers, CO, unless river conditions dictate otherwise.
Clinic Date: Contact us for the next available date, or arrange a private clinic for a group 3 or more anglers!
---