HOW TO HUNT BACKCOUNTRY BROOK TROUT
Arguably, myself and most anglers out there would prefer to catch Hog Johnson and Larry Lunker each time we hit the water. While nothing quite compares to feeling a trophy trout on the end of your line, it's not always about biggest fish. I spent the better half of this summer exploring the backcountry lakes in the mountains of Colorado with a fly rod. While the big ones once consumed my every thought, I now find the same satisfaction in the smaller pretty ones as well.
There is nothing quite like watching a brook trout eagerly attack your fly. On average, brookies range in size from 6-13″ inches. The
majority of them are on the small side of that spectrum. However tiny these fish may be though, they have some serious might. Catching brook trout presents its own unique set of challenges and rewards. Below are a few tidbits of advice that will help you be successful on the hunt for backcountry brookies.
Be Stealthy! Over the years, Brook trout have developed heightened senses and evasive maneuvers to keep predators away. By quietly walking the shore line of a backcountry lake or stream and waiting painterly out of sight, you will be able to spot these beautiful fish. Once you see one cruising the shore, make a cast.
Keep moving! Due to the short season of food supply in backcountry lakes, I like to believe that if you present an appealing looking fly on your first cast, they will take it first hit. If they don't, move on to the next stretch or bend and try again. Brook trout are spooked easily and making multiple casts in front of them will definitely scare them away.
Be prepared, this one may seem like a no brainer but I can't tell you how many times I forgot some of the absolute essentials. The last thing you want to do is replay the image of the big brook trout you missed over and over in your head, because you weren't prepared. My backcountry kit includes- gink, light leaders, polarized sunglasses, an extra fly box or two and a small net.
Practice careful fish-handling. Brookies are stunningly beautiful. They have dark green bodies with a distinctive marbled pattern and a sprinkling of red spots, and bright orange bellies. Without a doubt, after seeing one of these trout you will most definitely want a photograph. Due to their small stature, it is extra important to catch and release properly. Be sure to wet your hands before releasing them, and keep them low and close to the water for the photo.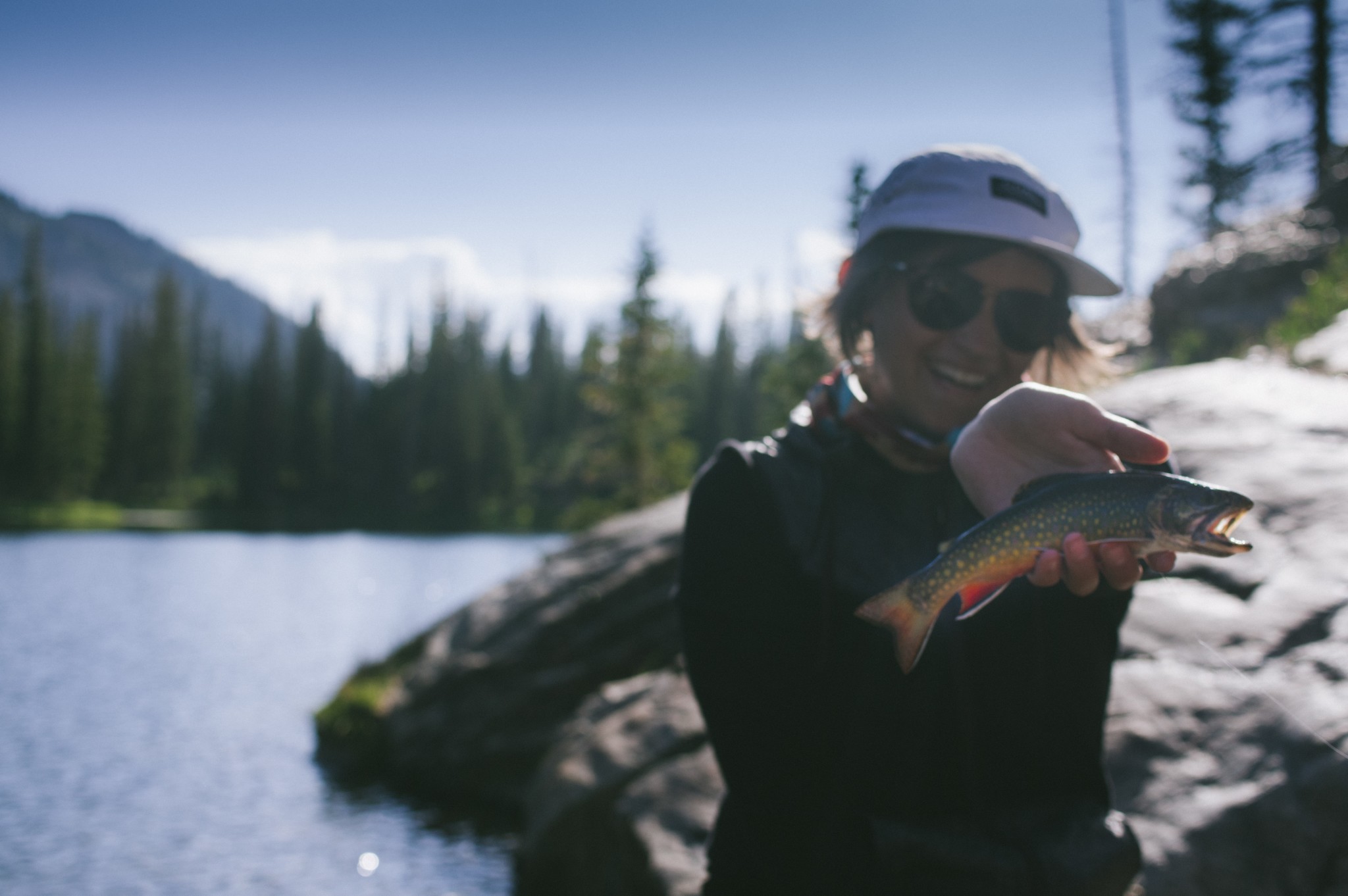 ---
Thanks to Jean-Marie Bousquet for this guest post! Follow her on Instagram @thejeanbug
Thanks to all our guests who attended the backcountry fly clinic. If you'd like to book a High Country adventure at Bartle Lakes or another one of our upper elevation fly fishing destinations before the snow flies, CONTACT US today!