Q & A with the professional guides of 5280 Angler
The nature of a Colorado fly fishing trip, from the booking process, to the flow of communication on the river, is naturally human. When you book a guided trip, you're choosing to spend a day on the water with a real person who has chosen to make fly fishing their profession. In light of this fundamental truth, we've chosen to shine a little more (spot)light on the guides who make the team at 5280 Angler. We're proud of our well over 100 years of collective guiding experience. We're even more proud to say we're the kind of people, people like to fish with.
---
Q. Where have you been fishing/guiding lately?
A. I've been fishing the South Platte River in the
Deckers
area a lot recently as well as the
Dream Stream
and Arkansas Rivers.  They've all been fishing well.  Some days you have to work for the fish, others they make it easy for you.
Q. How many years have you been guiding professionally?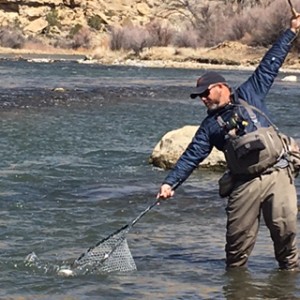 A. I've been a fly fishing guide in Colorado for 17 years.
Q.What is your favorite part about guiding/the thing that keeps you coming back year after year or day in and day out all season long?
A. The fact that I'm standing in a river in
beautiful places
making a living is what keeps me coming back.  I always find that every winter I'm chomping at the bit to get back out every single day. There's nothing in the world I'd rather do.  I also get to meet a lot of great people that become friends.  I always look forward to seeing them; every time I see their names on my schedule.
Q. You have lots of shops and outfitters to chose from. What makes guiding for 5280 Angler special?
A. It doesn't feel like I'm working for 5280 Angler.  It's more like we all work together as a professional team.  My input is always valued and we all have opportunities to participate in the business decisions.  I always feel like it's my business too.  More importantly, the guys I work with are some of the best people I know and have become my best friends.
Q. Have you been tying any flies lately? Which patterns and why?
A. 
I'm always tying flies
. A guide has to keep their boxes full so we're prepared for anything. I've been tying a lot of blue winged olive nymphs and caddis patterns recently. My favorite BWO nymph is my variation of a JuJu Baetis that I tie with midge tubing instead of Superhair.  Graphic caddis is my caddis pupa pattern of choice.
Q. How did you get your start into the profession? What do you find the most rewarding/challenging? Do you have any advice for the guy or girl reading this who is considering a leap into the profession?
A. I got started by learning when I was a kid.  As my knowledge increased, I started getting to know some of the guys in my local shop. Eventually I asked if they needed help with guide trips.  I did a shadow trip with their lead guide, and he immediately said I was ready to go.  My years of studying the sport paid off, and here I am today.  The best advice I can give anyone trying to jump into the profession is to take your time and do your homework.  Also, don't expect to be busy and make a good living your first couple of seasons. If you know your stuff and put in your time on the water, eventually you'll be rewarded.
Q. What is your favorite stretch of water to guide?
A. My favorite stretch of river to guide is
Long Meadow Ranch
on the North Fork of the South Platte.  It's private water, but the fishing is always good and someone usually winds up catching the largest
trout of their life
.
Q. What is the one trick you find yourself teaching guests on almost a trip-by-trip basis?
A. Bar none, it is my clinch knot using the forceps.  It's fast and reliable.  Most importantly, if your eyesight isn't great it will be like an epiphany.  Want to learn how to do it?  Book a trip with me and I'll show you.
Q. What is one word you would use to describe the current condition of your guide pack?
A. Simple!
A. Honestly, I've never read THE DRAKE, but I should.  I've grown a little tired of the political articles in FLY FISHERMAN MAGAZINE.  Don't get me wrong, conservation is extremely important to the continuation of our sport and protection of the resource. It seems like lately they've dedicated half of the magazine to politics. I really just want to read about fishing techniques, new flies, and destinations.
Q. What are you most often listening to on the way to and from the water?
A. Classic rock or The White Stripes station on Pandora
---
Jeremy Hamilton is host of the 5280 Angler VIDEO FISHING UPDATE. This popular stream report is a great way to stay on top of what's happening along the South Platte system. Subscribe to our YouTube Channel, and you'll never miss out on the latest Jeremusings.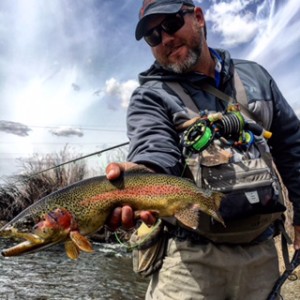 To book a trip with Jeremy Hamilton,
CONTACT US
today!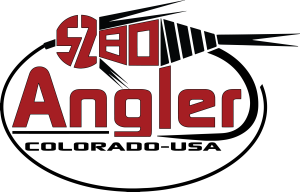 PASSIONATE ABOUT SERVICE | WILD ABOUT FISH ™