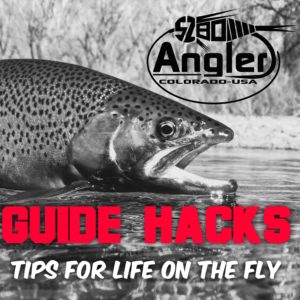 LATE SUMMER & EARLY FALL RIVER TACTICS: How to Adjust to Changing Water Conditions and Highly Pressured Trout
---
by Tom Caprio, 5280 Angler Guide
The midday tube hatch is proof: late summer flows are low and clear! As anglers, we need to take water volume and clarity into consideration and adjust our approach accordingly – the trout have been hit high and low all summer long. They are spooky/wary/selective/educated/picky/(insert favorite description here). However, the weather is fine, and we still have some fishing time! So what is a guy or gal to do? Read on, late summer friends.
TIME AND TEMP
This time of year, water temperatures across our favorite trout streams can creep several degrees above a trout's 'comfort' zone. In response, fish will move into areas that provide colder / more oxygenated water. Not unlike the way a good old dog always finds the shady spot out in the backyard, a veteran trout will find the prime cold water. As anglers, we want to look for fish in faster water and/or deeper water when water temps are anywhere near or above 65 degrees. By the way, a thermometer is a very handy tool to keep in your pack!
Shady spots are also a good bet. Again, the good old dog analogy is appropriate. Often, a large trout may be RIGHT up on the bank tucked under the shade of the willows. A stealthy angler with an Amy's Ant, Chubby Chernobyl, or another hopper pattern can be rewarded with an incredible fish on the dry!
Thinking along the lines of water temperature, prime rivers to target this season include higher altitude streams (ABSOLUTELY BEAUTIFUL THIS TIME OF YEAR!), tailwaters below bottom release dams, and situations where tributaries feed a larger river.  During these warm water periods, fish early and late in the day when the water temps are much cooler.  Insects and fish alike are most active during these low sun periods. At midday, take a siesta, enjoy the tube parade with a sandwich and a cold one, or go grab some lunch at the nearby cafe! 
HOPPER HEAVEN 
Late summer and early fall are an excellent time to throw terrestrials patterns. Hoppers, ants, and beetles are the most popular, but also try spiders, crickets, and even ladybugs. YES, ladybugs! One presentation trick is to actually let these buggy dry fly patterns sink subsurface. Many terrestrials end up under the water's surface, and opportunistic trout will eat them throughout the water column. Additionally, trout that are too wary to come all the way up to the top may be willing to meet you (and your fly) just under the surface!
LOW WATER. HIGH STEALTH.
Low & clear water conditions require stealth. You'll want to be as sneaky as possible. Wear natural colored clothing, keep a low profile, don't splash or do excessive false casting,  and approach water from downstream so you're behind trout that will face into the current. Longer casts may be necessary. Fish the lower end of the run first, otherwise you'll spook fish all the way up the run.
When you approach the stream, look for darker areas that signal deeper water. 'Nervous' water areas that have some depth provide cover for the fish, less current for them to fight, and offer an excellent spot to place your cast. Fish will also hold close to banks including the bank you're standing on.  Always start fishing close, and then cast a foot or so further out with each subsequent cast.
LATE SUMMER RIGS
Dry and dry/dropper rigs usually work best when flows are low.  The streams won't be that deep so fish will be 'looking up' for food. A larger grasshopper or caddis pattern followed by a smaller dry fly is a good choice. If fish aren't interested in eating on the surface, drop one (or two) beaded nymphs off the dry fly to give them a subsurface choice.  Or, add a tiny split shot to sink your non-beadhead flies. Your length of tippet will vary depending upon the depth of the water you're fishing, not to mention the willingness of the trout to move toward your fly.
Kids are headed back to school soon, and hunting season is near. It's a fun time to be on the water as summer crowds disappear. Be stealthy, think cool, and you'll find fish that are very cooperative.
---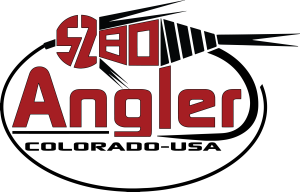 PASSIONATE ABOUT SERVICE | WILD ABOUT FISH ™