GUIDE HACKS – Practical Strategies for Life on the Fly
Guide Hacks celebrates the tactical genius our team of fly fishing guides employ regularly in their relentless pursuit of Colorado trout. We've launched this series so that all anglers can benefit from our proven methods.
Guide Hacks is more than just a collection of tips and strategies for the water. It's a conversation in which we invite you to join! Next time you discover your own "guide hack" post a pic on Instagram or Facebook with #5280guidehacks. We'll repost our faves, and you'll get the hero credit you deserve!
---
7 Strategies for Fishing the Fast and Dirty Runoff Waters
by Marcelo Caiozzi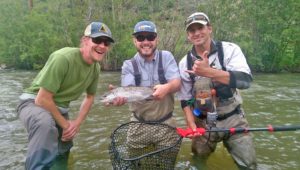 The dreaded spring runoff is just beginning.  Talk of high, muddy, and fast water raises the hairs on the back of most fly fisherman's necks.  Many people decide not to fish during this time, while others drive the extra miles to find clear, slower, and lower water.  I'm going to ease your nerves and save you some gas! Fishing runoff can actually provide some of the best fishing of the season. I'll provide a quick story and give you some tips to help you hit the dirty water and come out with a smile!
The spring runoff of 2015 was at its highest and dirtiest – TRULY EPIC!  As the surging South Platte threatened to wash out bridges near Deckers, Colorado, we were actually catching some of the largest and strongest fish of the year.  At the same time others were reporting the rivers were "blown out" and "unfishable," I was witness to clients with happy smiling faces telling me they had the best fishing of their lives.  How could this be true you ask?!  Well, the fish were still in the river. They were hungry and feeding. We figured out where to find them and how to fish for them.
Here are 7 specific strategies that we employed during that time. Put them to the test in the forthcoming runoff to help you catch fish during these high water dirty conditions.
Fish the slower moving water, typically located tight to the banks, behind boulders, below gravel ledges, and in slow moving eddies and seams.  Trout, unlike people, do not want to lose weight by exhausting themselves in fast current (think treadmill at lightspeed).  Instead, trout will hold and forage in the slower water.
Use larger, flashier, "buggier," and generally more visible fly patterns. High spring flows and increasing water temperatures cue some of the biggest bugs and food sources around including stonefly nymphs, aquatic worms, bright caddis, crane fly larvae, and scuds. Also, with the potential of late spring spawn, don't forget your apricot/orange colored eggs.
Try crawling large stonefly nymphs along the bottom towards to river banks. Stones will crawl towards the banks before they molt and hatch on rocks and dry land. Rather than the more common 'drag-free' drift, utilize a tension drift with a tight line, guiding your stonefly pattern toward the bank in order to imitate the real thing.
Use heavier, stronger 0, 1, 2, and 3x tippet. Thin is not in during runoff! Forget the  4, 5, 6, and 7x tippets.  It's time to go for the pigs and yes, even have a chance at landing them.   The water during runoff is very muddy and discolored, the fish will not see the thicker heavier lines.  Besides, the currents are much stronger and you'll need the thicker diameter current to play the fish effectively without pointlessly breaking off.
Use big bright, flashy, and light colored streamers. I tend to do much better with large white, tan, light olive, and even yellow streamer patterns cast towards the banks and pocket water. Twitch the retrieve to give the impression of a struggling, injured, or fleeing fish.
Try suspending nymphs in the upper half of the water column. As large amounts of debris like sticks, leaves, pine needles, algae, mud, etc.… are being washed down river, trout will suspend in the lighter, clearer surface water where they can more easily see food.
Try a high sticking technique to get clean, drag free drifts. High water flows create numerous cross currents, which can pull on your fly line and cause unnatural looking drag to your flies.
I know these techniques will help you to catch more and bigger fish during the spring runoff.  Remember to pinch the barb on your hooks, handle fish with wet hands, keep fish wet, and practice catch and release. When snapping the photo of your runoff beast, hold your breath when taking a picture to remind yourself that the fish are doing the same. Revive fish before putting them back, and please help ensure our rivers are clean of trash and debris.
One final safety note: USE PRECAUTION WHEN FISHING RUNOFF! No fish is worth risking anyone's safety. The use of wading belts, wading sticks, and a HEALTHY dose of discretion is advised.
---
Interested in learning more?
CONTACT US and we'll schedule a guided fly fishing trip with 5280 Angler Senior Guide, Marcelo Caiozzi.